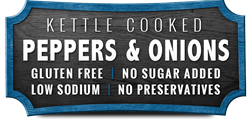 I wanted to capture the essence of an convenient topping, peppers and onions, and place it in the palm of my hand – and thus a new condiment was born
Syosset, New York (PRWEB) June 24, 2016
Jensen's Kitchen LLC, a creator of fine condiments and marinades, announces the launch of Kettle Cooked Peppers and Onions, which comes in both Original and Sriracha flavors. The condiment or "sauce" captures the great flavor of sautéed peppers and onions for easy use on sausage, burgers, sandwiches, chicken, beef, pork and more.
The sauce is simple, healthy, and delicious – with all natural, gluten-free ingredients, no sugar added, and no preservatives. Just in time for summer, the sauces are the perfect addition to any outdoor BBQ.
Jensen's hallmark of SIMPLE HEALTHY AND DELICIOUS is producing condiments, and marinades that are flavorful yet healthy enough to be used by, children, vegetarians and diabetics requiring no preservatives, low salt and no added sugar. "Ketchup and sugary barbecue sauces are going to be a thing of the past" says Rob Jensen, creator of the line. Even Jensen Sriracha, although exhibiting the Sriracha "Kick", does not compete in the hot sauce market. It provides a healthy zest to give food an extra punch for consumers who enjoy hot, but do not to be overpowered.
Customers are overjoyed because now there is a product on the market that replaces all the non-healthy products as well as give great taste and flavor.
"This all started when I realized that there is a condiment for hot dogs and hamburgers, but nothing for sausage," said Robert Jensen, CEO and founder of Jensen's Kitchen. "I wanted to capture the essence of a convenient topping, peppers and onions, and place it in the palm of my hand – and thus a new condiment was born."
Kettle Cooked Peppers and Onions can be used on everything. Although originally developed for all types of sausages, the sauce has amazing versatility. It can be brushed onto grilled vegetables, poured over veggie burgers, and used as a dipping sauce for raw veggies. The sauce can also be used on turkey burgers, chicken burgers and cheesesteaks; as a marinade for skirt steaks and kabobs; and as a dipping sauce for chicken cutlets. The possibilities are truly endless.
Jensen's Kitchen Kettle Cooked Peppers and Onions Sauce in both Original and Sriracha can be ordered at http://www.jensenskitchen.com.