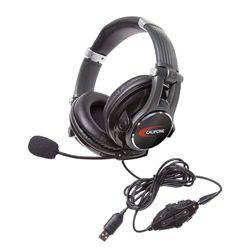 We value the opportunity to give back to the schools and classrooms working hard to prepare students for the future.
Denver (PRWEB) June 28, 2016
Califone International and Encore Data Products Inc. donate 70 gaming headsets to Rangeview High School – Aurora Public Schools and Indian Peaks Elementary School – St. Vrain Valley Schools. The companies presented the gifts to school representatives today during the ISTE 2016 Conference.
"We value the opportunity to give back to the schools and classrooms working hard to prepare students for the future," said Sabrina Manno, director of marketing of Encore Data Products. "The headsets will help Rangeview High School and Indian Peaks Elementary School put immersive, game-based learning into practice."
Rangeview High School receives the GH507 Gaming Headset, which includes a detachable microphone and inline controls that unclip for audio-only listening on multiple devices. Indian Peaks Elementary School receives the GH131 Gaming Headset, featuring a lightweight design for transportable gaming. Both models are customizable with industry-standard 5.1 and enhanced 7.1 surround sound that enables 3D sound effects.
"This donation is part of our continued efforts to place the power of game-based learning in the hands of educators and students," said Scott Evans, marketing manager of Califone. "With the new headsets, students will have an engaging and immersive educational-gaming experience."
Califone invites attendees to demo the headsets, and enter a giveaway for gaming headsets, in its booth #4100. This year, Califone celebrates its 70th anniversary and introduced a three-year warranty on heaphones and headsets. For more information on Califone products, visit http://www.califone.com.
To learn more about Encore Data Products, its wide selection of top brand education technology accessories and its Great Headphone Giveaway, stop by booth #3055 or visit http://www.encoredataproducts.com.
About Califone
Califone was founded in 1947 and continues to be a leader in the design, development and manufacturing of audiovisual and supplemental curriculum products for use in education. The company's products enable educators to incorporate rich audiovisual resources into lessons that help students build speaking and listening skills, critical to the English Language Arts portion of the Common Core State Standards. Califone offers a complete line of audio solutions, wireless systems and multimedia products for small, medium and large presentation needs, and serves millions of educators and students in the PreK through higher education school environments.
About Encore Data Products
Encore Data Products is a privately held company based in Louisville, Colorado. The company supplies the education, health and fitness, hospitality, business and government industries with high quality audio visual equipment and technology accessories. With an ever-expanding product selection from top brands, free shipping options, competitive pricing and easy ordering, Encore Data Products enables its clients to maximize their investment in equipment needed to enrich their learning, health and business environments. For more information on Encore Data Products services and products, please visit them online at http://www.encoredataproducts.com/.