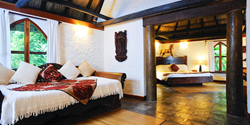 We're giving guests a taste of what makes western Belize so special.
San Ignacio, Belize (PRWEB) June 27, 2016
By planning ahead and booking early, travelers can say goodbye to summer by enjoying a vacation at one of Belize's most highly regarded eco-resorts for less than a stay at other budget accommodations, according to a new announcement from The Lodge at Chaa Creek.
Elsie Pacheco, Chaa Creek's Reservations Administrator, said that during the months of September and October 2016, a special day rate will drastically reduce the price of staying at one of Belize's most popular and highly awarded eco-resorts.
"We wanted to offer something different that will help travelers chase those end of summer blues while introducing more people to the many charms of Belize's Cayo District," Ms Pacheco said.
"We often refer to Cayo as Belize's 'Wild West' due to the fact that it is still so unspoiled, with vast tracts of pristine jungle, the huge Chiquibul national forest, timeless rivers, traditional villages supporting cultures relatively unchanged over the years, and of course the many temples, ancient cities and artifacts, and ceremonial caves left behind by the Maya civilization that flourished in Belize.
"By offering a day rate that for under $100 US dollars includes eco-luxe accommodation, a full breakfast, guided tours of our onsite Belize Natural History Museum, live Blue Morpho butterfly exhibit and morning birding, as well as canoeing on the Macal River, nature hikes that include an interpretive Maya medicinal plant trail, dinner specials and other activities and amenities, we're giving guests a taste of what makes western Belize so special," Ms. Pacheco said.
"We're also making it easy and affordable for visitors to experience Belize's famously enthusiastic and colorful September Independence celebrations," she added.
Chaa Creek's proximity and Belize's small size—about 170 miles (274 km) long and 68 miles (109 km) wide—make the eco-resort a perfect base for exploring the entire country, Ms. Pacheco said.
"Our staff is always on hand to suggest tours and excursions, help organize car hire and other transport options, and generally help guests familiarize themselves with Belize, from the western border to the Caribbean coast and islands.
"And with Tropic Air's Maya Flats airstrip virtually at our front door, the entire country, as well as major attractions in neighboring Guatemala, are short hops away," she explained.
However, Ms. Pacheco added, there is no reason to leave Chaa Creek's 400 acre private nature reserve to enjoy a complete Belize vacation.
"We've been called Belize's 'Destination within a Destination' for good reason," she explained. "With miles of well maintained, secure trails crisscrossing a 400-acre rainforest reserve that's home to an amazing array of flora and fauna as well as over 70 recorded ancient Maya archaeological sites, perfect for horseback and mountain bikes excursions, birding and guided or self-guided nature hikes, and with the Macal River offering tranquil canoeing, guests can spend days enjoying healthy activities in beautiful natural surroundings.
"And with an infinity pool, fine dining restaurant and lounge, and onsite options such as the Hilltop Spa, there are plenty of opportunities for pampering and relaxation as well.
"And to be able to enjoy all of that for under $100 US dollars a day, makes September and October the perfect time to come down and check out Belize."
But, Ms. Pacheco stressed, early bookings will be essential in order to avoid disappointment.
"Now is the time to contact your travel agent or Chaa Creek directly to learn more and to secure bookings," Ms. Pacheco said.
The Lodge at Chaa Creek is a multi award winning eco resort set within a 400-acre private nature reserve along the banks of the Macal River in Belize.