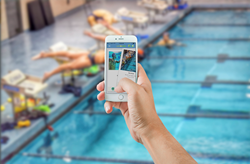 We created LemonAid to help lesser-known athletes and colleges get visibility in the recruiting process
Ashburn, VA (PRWEB) June 28, 2016
Startup LemonAid, already certified NCAA compliant,has officially announced the launch of its app on both iOS and Android platforms. LemonAid helps high school student athletes better navigate the difficult college recruiting landscape that awaits them on their way to competing at thousands of colleges across the United States.
Intercollegiate athletics is big business in the U.S. and, each year, 7.4 million US high school students - as well as others from across the world - compete for athletic scholarships. Despite more than $3 billion being awarded in athletic scholarships each year, it can be difficult for less well-known athletes and schools to get the attention of schools and coaches. Free app LemonAid fixes this problem by building direct bridges of communication between athletes, coaches and schools.
"We created LemonAid to help lesser-known athletes and colleges get visibility in the recruiting process," says co-founder, Nate Boyle. "We are pleased to announce the general release of our app on two huge platforms. Now we can extend our help and assistance to would-be college athletes across the US, and beyond."
LemonAid streamlines the recruitment process for colleges and athletes in equal measure. The app allows for direct messages between coaches and athletes, speeding up a process that is normally bogged down by countless emails. Working like a combination between professional network LinkedIn, and dating-app Tinder, LemonAid allows coaches and athletes to swipe through the app before finding a mutually beneficial match.
In addition to their athletic and academic profiles, athletes can also upload videos to show off their prowess. These create a 'digital baseball card' for colleges to quickly view. And information at the touch of a fingertip can negate the need to travel, highlight overlooked talent, and communicate interest faster. Further complementing the social search, high school coaches and sports fans join the fun by ranking and recommending colleges to and for athletes with a simple drag and drop feature.
LemonAid is partnered with the National Association of Intercollegiate Athletics (NAIA). The NAIA accounts for around $450 million in scholarships, handed out to 70,000 college athletes. Each year just 6% of high school athletes win a coveted scholarship, making exposure a key ingredient to success. However, this often requires would-be students to attend expensive training events and camps in order to garner attention. Now, LemonAid is leveling the playing field for athletes from all backgrounds. "The NAIA is thrilled to establish a partnership with LemonAid, a company dedicated to connecting coaches and student-athletes," says NAIA President and CEO, Jim Carr. "Their innovative recruiting techniques will allow potential student-athletes to discover the NAIA school that suits them best."
"LemonAid shows users every school with their sport, presented to them in an easy-to-use mobile application, helping them to make informed decisions," co-founder Eric Knight explains. "Additionally, schools can further boost their visibility to prospective student-athletes by getting their current athletes and alumni to use LemonAid, and advocate for their school."