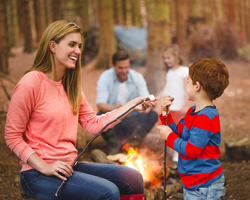 LINCOLN, R.I. (PRWEB) June 27, 2016
Campfires are great for creating a relaxing and enjoyable environment. But it's important to remember that they can also be dangerous, and that's why Amica Insurance is sharing six safety tips.
According to the Smokey Bear wildfire prevention website, there were 58,916 wildfires caused by humans that burned more than 2 million acres in 2015. Amica is sharing the following campfire safety tips from Smokey Bear to help prevent those wildfires:

If there is no existing fire pit available, choose a place at least 15 feet from tent walls, shrubs, trees and other flammable objects. Also, beware of low-hanging branches.
Use three types of wood to build the fire: tinder (small twigs, dry leaves, grass and needles), kindling (sticks smaller than an inch around) and fuel (larger pieces of wood).
To start the fire, ignite the tinder with a lighter or match. If using a match, discard it into the fire once it has gone cold.
Don't burn things like pressurized containers, glass and aluminum/aerosol cans, as they can explode, shatter or create harmful fumes.
When extinguishing the fire, pour water on it to drown all the embers, not just the red ones. Continue pouring until the hissing subsides.
With a shovel, scrape any remaining sticks and logs to remove embers. Make sure that no embers are exposed and still smoldering.
About Amica Insurance
Amica Mutual Insurance Co., the nation's oldest mutual insurer of automobiles, was founded in 1907. The company, based in Lincoln, Rhode Island, is a national writer of auto, home, marine and umbrella insurance. Life coverage is available through Amica Life Insurance Company, a wholly owned subsidiary. Amica employs more than 3,400 people in 44 offices across the country. For more information, visit Amica.com.
Media inquiries can be sent to MediaCenter(at)amica(dot)com.
Twitter: Amica
Facebook: Amica Mutual Insurance Co.