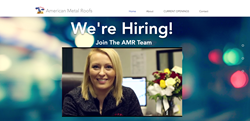 We are excited to be able to create new jobs for Michigan workers throughout the state as we continue to meet the needs of homeowners who are interested in upgrading their roofing systems. -Frank Farmer- AMR President
Flint, Michigan (PRWEB) June 28, 2016
The demand for permanent metal roofing in Michigan has been increasing every year. To meet this demand, American Metal Roofs (AMR) is expanding their workforce. To help facilitate the hiring process, AMR has just launched an employee recruitment website.
This new website provides a list of current positions available, including Appointment Setters, Sales Professionals, and Metal Roofing Installers. Job descriptions and qualifications are also detailed on the site along with contact information and application forms. Applicants are encouraged to review the company's core values that are posted on the site before submitting an application.
"We are excited to be able to create new jobs for Michigan workers throughout the state as we continue to meet the needs of homeowners who are interested in upgrading their roofing systems. We looking forward to welcoming new people to the AMR family."
-Frank Farmer, President- American Metal Roofs
The new site also showcases a video featuring testimonials of current employees who offer reasons why working at AMR is a positive experience and a great career move.
Please visit the AMR recruitment site here: http://www.amrhelpwanted.com
About American Metal Roofs:
American Metal Roofs provides residential and commercial metal roofing products and services for the Michigan Lower Peninsula. American Metal Roofs specializes in installing metal roofing from the leading manufacturers of permanent metal roofing.