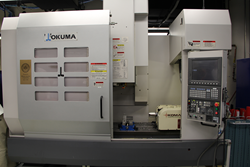 This unique training program provides Okuma's workforce with the skills necessary to be successful in their careers.
Charlotte, NC (PRWEB) June 28, 2016
Okuma America Corporation is partnering with Central Piedmont Community College (CPCC) to provide customized machine tool training for Okuma employees. The program is funded through North Carolina's NCWorks Customized Training Program and is implemented through the North Carolina Community College System.
Okuma recently expanded its mechanical repair and exchange service departments in Charlotte and is receiving $63,310 in CNC training from CPCC to train new hires and current employees. The training programs include leadership, process improvement, SolidWorks, computer operations, electrical assembly and wiring, and enterprise resource planning.
The training grant supports economic development efforts of the state of North Carolina by providing education, training and support services for eligible businesses, assisting them in their efforts to be productive and profitable within the state.
"This unique training program provides Okuma's current and future workforce with the skills necessary to be successful in their careers," said Brittany Russell, Okuma America, training program manager. "Our partnership with CPCC is yet another way for us to help ensure the future success and growth of manufacturing in the Charlotte area."
"CPCC is delighted and honored to work with Okuma America as the company expands its operations in Mecklenburg County," said Allison Bowers, CPCC director, economic recruitment. "The college, through our Corporate Learning Center, will work hard to deliver the customized training Okuma associates need now and in the future."
Okuma and CPCC share a long standing relationship dating back to the early 1980s. For more information on Okuma machine tools visit http://www.okuma.com/cnc-machine-tool-lineup.
About Okuma America Corporation
Okuma America Corporation is the U.S.-based sales and service affiliate of Okuma Corporation, a world leader in CNC (computer numeric control) machine tools, founded in 1898 in Nagoya, Japan. The company is the industry's only single-source provider, with the CNC machine, drive, motors, encoders, and spindle all manufactured by Okuma. The company also designs their own CNC controls to integrate seamlessly with each machine tool's functionality. In 2014 Okuma launched the Okuma App Store, the industry's only centralized online marketplace for machine tool apps and related content. Along with its extensive distribution network (largest in the Americas), and Partners in THINC, Okuma is committed to helping users gain competitive advantage through the open possibilities of machine tools, today and into the future. For more information, visit http://www.okuma.com/americas or follow us on Facebook or Twitter @OkumaAmerica.
About Central Piedmont Community College
Central Piedmont Community College is one of the largest community colleges in the Carolinas, offering nearly 300 degree, diploma and certification programs; customized corporate training; market-focused continuing education; and special interest classes. CPCC is academically, financially and geographically accessible to all citizens of Mecklenburg County. CPCC responds to the workforce and technology needs of local employers and job seekers through innovative educational and training strategies. Established in 1963, CPCC has provided more than 50 years of service to Mecklenburg County residents, business and industry. For more information, see http://www.cpcc.edu. Connect with the college on social media at http://www.cpcc.edu/social.