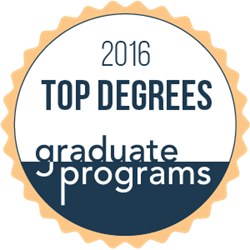 Since its inception, over 50,000 student reviews have been collected and used to create annual rankings of graduate programs
Kirkland, WA (PRWEB) June 29, 2016
SR Education Group, an online education publisher based in Kirkland, Washington, has just released the 2016 Top Graduate Schools on GraduatePrograms.com. Since 2012, GraduatePrograms.com has been collecting reviews of graduate schools and programs around the country. Since its inception, over 50,000 student reviews have been collected and used to create annual rankings of graduate programs. This year, in an effort to help prospective students get valuable quantitative feedback from alumni, SR Education Group has published over 35 distinct rankings covering both traditional and online programs. There are 32 program-specific Top Graduate Schools lists for campus-based schools and 7 program-specific Top Online Graduate Schools lists.
With 18 programs making the 2016 Top Graduate Schools, The University of Southern California topped the lists as the most recognized graduate school. 16 of their traditional on-campus graduate degrees were rated as among the best, and 2 of their online degrees came in on the rankings. Unlike undergraduate schooling, all graduate students select a school based off of which degree programs they offer. This makes The University of Southern California a safe bet for most graduate school hopefuls willing to relocate to California.
For those students unable to relocate for graduate school, there are 7 lists ranking the best online graduate programs in Business, Counseling, Education, MBA, Public Health, Social Work, and Nursing. Liberty University was the most notable online graduate school, making 6 of the 7 top programs lists. Des Moines University was the most affordable online graduate school to be ranked #1. The annual tuition for their graduate degrees in public health are under $10,000. Overall, 75 different graduate schools made the rankings for their online degree programs.
"GraduatePrograms.com is a valuable resource for any student considering a continuation of their education at the graduate school level," says one visitor from Kent State University. "Graduate student feedback about individual graduate programs, as well as the overall university experience, should be an important consideration for any student in their selection of an institution of higher learning. I applaud GraduatePrograms.com for providing this service."
Note to editors: Click here to consult the methodology for the 2016 Top Graduate School Rankings or just visit http://www.graduateprograms.com for more information.
About SR Education Group
Headquartered in Kirkland, WA, SR Education Group was founded in 2004 by CEO Sung Rhee. The company's mission is to create authoritative online resources for students seeking an online education program that best suits their budget and career aspirations. SR Education Group is passionate about making quality education attainable for everyone and believes that objective information about education, careers, and educational financing should be free and easily accessible. For more information, please visit http://www.sreducationgroup.org.