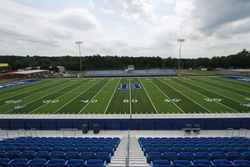 We think we have the best kids around and we want to provide the best facilities around and I think we've accomplished this.
Bremen, Georgia (PRWEB) June 28, 2016
When the Bremen High School Blue Devils take the football field this fall, they will do so on an all new playing surface from Shaw Sports Turf.
Work on the new field was completed last week. From the time the old field was removed until completion of the new surface, the project took 25 days.
The school, which has just over 600 students is located in the small town of Bremen, along the I-20 corridor near the Georgia-Alabama state line.
The school does not have multiple fields and uses its one field for most activities, so the practicality of having a synthetic turf field for more programmable hours and joint use by the school and the surrounding community made sense.
"This is a tremendous step forward for our schools, our programs, and our community, as well," said Dr. David Hicks, Superintendent of Bremen City Schools. "Being a small community, we take a lot of pride in our school facilities. The whole community does. The field is really for everyone, not just our schools, but our community members, as well. It really is a step forward in the right direction to provide our kids with exceptional facilities. It's something they can be very proud of. We think we have the best kids around and we want to provide the best facilities around and I think we've accomplished this."
Because of the number of activities which will take place on the field, the school chose Shaw Sports Turf's Legion system. Legion is a combination of high-performance monofilament fibers and a durable slit film fiber. The slit film fiber is a workhorse which will handle the workload, while the monofilament provides a more resilient surface that enhances performance characteristics.
"We had heard very good things about Shaw," said Dr. Hicks. "You've heard of Shaw Industries for years. They are a very reputable company. Through the bid process, we were pleased with the bid that was submitted as well as the attention to detail that was provided. We have felt comfortable from the very beginning with Shaw, from the whole formal bidding process, and all the way through the end of the project. We are just very, very pleased."
The addition of the playing surface complements several other stadium improvements. Last year, the school added new home stands, with blue seatbacks in the middle, reserved section. This summer, in addition to the turf, the school has added new visitors' stands.
The field, which was scheduled to be completed later in the summer, was actually completed last week.
Regarding the installation process, Dr. Hicks said, "It has been absolutely exceptional. I would say almost flawless. From the beginning to the end, we have been immensely pleased with the timeliness of getting the project complete, the communication, we knew what was occurring and when it was occurring. The crews that installed it, from the drainage to the turf itself have been very, very professional in the way they conduct themselves and we've had zero concerns with the whole process."
"Bremen has a great sports tradition and is a great place to be on a Friday night," said Jim Watts, Territory Manager with Shaw Sports Turf. "Bremen is doing great things within the school and community in its athletic programs and we're proud they selected Shaw Sports Turf for their young athletes to practice and play on."
This fall, the beloved Blue Devils football team will take the field under first-year head coach Davis Russell, who was hired in February. Russell was previously the defensive coordinator at Northgate High School and, last season, featured a defense that held opponents to 11.6 points per game, with five shutouts and held three other teams to single digit point totals.
Defense is obviously a big part of Coach Russell's life, as he is the grandson of legendary coach Erk Russell, who served as defensive coordinator at the University of Georgia and later started the football program at Georgia Southern. The younger Coach Russell also owns two national championship rings from his time as a lineman at Valdosta State University.
"I'll tell you, if our kids worked as hard as crews that put this field in did, we'd be pretty good," Coach Russell said of the installation. "It's good to see guys working their tail off. I told our kids that if they can't get fired up to play on a field as beautiful as our Shaw Sports Turf field, then something is wrong. They must have a pulled heart muscle."
In addition to being proud of the way the field looks, Russell is excited about what it means for preparation.
"Last year, all over the state, weather was a factor for every team," he said. "If you didn't have a turf field, you were out of luck. This helps us to practice and get things done. With that comes great expectations, so I guess these folks will expect me to be a good coach."
Regarding maintenance, Coach Russell says the field will affect some people in a negative way.
"We have a paint crew of parents who paint the game and practice field," he said. "Now they are all looking for a job. I told them they could come over to my house on Thursday nights and mow the yard."
The team will open on the new field when they face rival Bowdon on August 26.
ABOUT SHAW SPORTS TURF
A wholly-owned subsidiary of Berkshire Hathaway Inc., Shaw Industries is a full flooring provider to the residential and commercial markets. Shaw supplies carpet, hardwood, laminate, resilient, and tile/ stone flooring products, as well as synthetic turf. Shaw Sports Turf is one of the leading synthetic turf companies in North America and has represented quality and innovation for more than two decades with over 1,500 successful installations, including an impressive list of high-profile field installations. For more information please visit http://www.shawsportsturf.com, call 866-703-4004 or find us on Facebook.