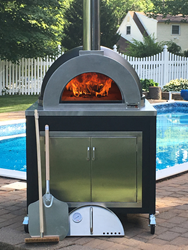 Wood grilling involves balancing the pure taste of your ingredients with the natural wood flavor and aroma to create an amazing meal.
Valley Cottage, NY (PRWEB) July 02, 2016
Imagine lounging in the backyard surrounded by friends, drinking wine, and breathing in the scent of homemade pizzas baking in a traditional ilFornino® Wood Fired Pizza Oven. The warmth. The aroma. The taste. The ilFornino Wood Fired Pizza Oven will bring the Mediterranean lifestyle with unmatched authenticity, sure to delight the most discriminating of guests.
"While traveling through Italy, I was fascinated by the way pizzas were made in Naples. The wood fired pizza ovens offered the traditional Italian flavors, famous throughout the world. But it wasn't just the taste that satisfied. I watched as people relaxed as they waited, chatting with each other and watching their pizzas bake in the ovens. They expressed no impatience as they slowed down and enjoyed life. I knew right away that I wanted to bring this atmosphere home with me and create the same experience in New York. After several trips to Naples, my dream has arrived," said Chris Salman, owner of ilFornino.
Inspired by the traditional ovens of Naples, Italy, ilFornino® New York Wood Fired Pizza Oven was born. Designed like no other oven, its portability and ease of use offers old world performance in a lightweight solution. All ilFornino® ovens are fully assembled when they arrive, with the exception of the chimney stack and cart, which is optional for outdoor kitchens and barbecue islands.
Benefits Of Wood Fired Pizza Oven:
Faster cooking time
Better Crust
Delicious flavor
Crispier toppings
Higher cooking temperature
For more information on ilFornino Products, please visit: http://www.ilfornino.com/
About ilFornino:
ilFornino offers a great collection of wood fired pizza ovens and accessories. ilFornino provides delivery and professional installation service in New York, New Jersey and Connecticut. Make an appointment today 1.914.347.3178 to come visit ilFornino showroom, just 45 minutes north of New York City.
Compare the ovens side by side.
Have an Espresso or Coffee.
Pick up Wood Fired Pizza Oven in truck or SUV to save the shipping fee.
Contact Person: Chris Salman
Phone: 877-302-6660 or 914-347-3178
Watch more videos here: https://www.youtube.com/channel/UCKEIbHmka8dkeOz7VHn8U-Q