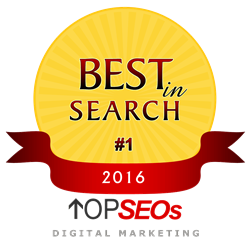 NAPLES, Fla. (PRWEB) June 30, 2016
Topseos.com, a research team that is known as an independent authority on online marketing, has named Search Engine Optimization Performance (SEOP) the best digital marketing company for June 2016. Topseos.com considers thousands of companies for this honor, and SEOP was selected after a meticulous evaluation process.
"The whole industry looks to us to identify reliable and accurate benchmarks and SEOP has proven by its performance that they deserve to be on this coveted list," shared Jeev Trika, partner at topseos.
SEOP has over 12 years of experience in search engine marketing for online businesses. The company is made up of experts in SEO and PPC who know how to not only attract potential visitors to a website, but also know how to turn that visit into a profitable transaction. The company was awarded the honor based on their continued performance and a history of successful online marketing solutions, and, according to topseos.com, should be considered by those looking for a reliable digital marketing solution.
Among the reasons listed for the accolade are SEOP's competitive advantage, superior services and pricing, its customer and technical support, an excellent response to client problems, innovations that set it apart from the competition, efficiency and impressive performance overall.
Topseos.com reached their decision after a rigorous analysis of a number of digital marketing firms. An independent research team evaluates the overall level of competency of the competing firms across five areas: project analysis, design standards, customer involvement, interactivity and customer support.
Then, the research team conducts a more in-depth examination by contacting the firms' clients. This gives the team at topseos.com the chance to hear from the clients themselves about the competing firms, and how the firms work to provide solutions. Oftentimes, clients will contact topseos.com directly in order to give their opinions.
Clients give feedback on their overall experience with the company, including specific issues such as the types of needs analysis conducted before work began, how long it took to see results and what kind of reports followed the completion of the work.
"It is a great honor for SEOP to be presented with such an acknowledgement. We hold topseos in high regard and being part of this ranking is an indication of our hard work and efforts," said Yasser Aloosy, Chief Operating Officer from SEOP.