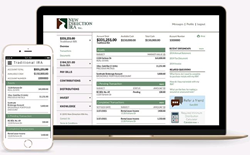 Louisville, CO (PRWEB) June 30, 2016
As the future progresses, self-directed IRAs continue to grow in popularity among investors of many different markets. To match this growth, IRA administrators must ensure their integrated technological processes bring self-directed IRAs into the here and now.
New Direction IRA announces it's newest IRA technological convenience tool, myDirection.com. Optimized for both desktop use and mobile devices, the convenience for investors to access their retirement accounts from their mobile device will save time and help them manage investments while on the go.
myDirection's customizable transactions filter allows clients to organize their transactions based on asset or transaction types. This means investors can easily find specific transactions and manage their retirement savings effortlessly.
For real estate investors, myDirection allows renters to pay rent directly into the IRA owner's account, encouraging easy on-time payment. It also displays account holders' positions, balances, and transactions, so retirement investors have the right information to make better real estate investment decisions for their retirement accounts.
IRA providers' systems of service play a huge role in the amount of time and effort account holders must allocate to manage their IRA real estate investments. Investors can benefit from choosing an IRA provider that hosts technological convenience tools that eliminate paper processes and save both time and money.
Since offering free online bill pay in June of 2012, New Direction continues to remain at the forefront of ground-breaking self-directed IRA technology. Visit http://www.newdirectionira.com today to learn more about self-directed IRA investing today.