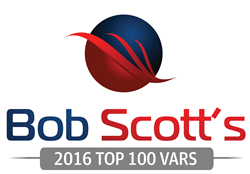 Woodland Hills, CA (PRWEB) June 29, 2016
For the fourth consecutive year, SugarCRM Elite Partner and Sage Gold Partner Faye Business Systems Group has been selected as a Top 100 VAR by Bob Scott for 2016
Faye Business Systems Group is a Sage Gold Partner, SugarCRM's #1 Global Channel Partner, and known for their breadth of SugarCRM Integration Add-On Products and custom software solutions, which include integrations with ERP software, Phone Systems, Marketing Automation, Credit Card Processing, Project Management, and more.
Named to the Bob Scott's Insights Top 100 VARs for 2016, FayeBSG has been selected to this prestigious list for the fourth consecutive year. The Top 100 resellers are chosen from organizations specializing in the sale and implementation of Enterprise Resource Planning (ERP) and accounting software.
"We want to congratulate this year's class of Bob Scott's Top 100 VARs," said Bob Scott, executive editor of Bob Scott's Insights. "This selection represents recognition of leaders in this important field."
"We are thrilled to be a Bob Scott VAR Star for the 4th year," said David Faye, CEO of FayeBSG. "As a software company, we are deeply committed to advancing our expertise and leadership in the next generation of cloud based accounting platforms and CRM software. It is an honor be recognized for our commitment to this endeavor. Congratulations to all the winners."
The selection is based on annual revenue generated by each reseller. A special report that includes names of the organizations selected for this year's Top 100 list, ranked by revenue, is downloadable at http://www.bobscottsinsights.com.
Faye Business Systems Group is a Sage Gold Partner, SugarCRM Elite Partner, and a NetSuite Partner. To learn more about FayeBSG's CRM, ERP and Accounting Software Solutions click here.
About FayeBSG
FayeBSG is SugarCRM's #1 Global Channel Partner, a multi-time INC 5000 honoree and recognized by CIO Review as one of 20 most promising CRM and ERP solutions providers for 2015. Faye Business Systems Group specializes in a variety of custom software solutions to meet client needs. Services include software development, project management, packaged software implementations, custom software implementations, integration, consulting, training, and support.
Faye Business Systems Group has completed hundreds of successful CRM and ERP projects. For more information, call (818) 280-4820, email info(at)fayebsg(dot)com, or visit http://www.fayebsg.com. Connect with Faye Business Systems Group on LinkedIn, Facebook, Twitter or YouTube.
About Bob Scott
This report is made possible by the continued support and cooperation of our readers and by our sponsors: Acumatica, Avalara, Intacct and NetSuite.
Bob Scott has been informing and entertaining the mid-market financial software community via his email newsletters for 17 years. He has published this information via the Bob Scott's Insights newsletter and website since 2009.
He has covered this market for 25 years through print and electronic publications, first as technology editor of Accounting Today and then as the Editor of Accounting Technology from 1997 through 2009. He has covered the traditional tax and accounting profession during the same time and has continued to address that market as executive editor of the Progressive Accountant since 2009.