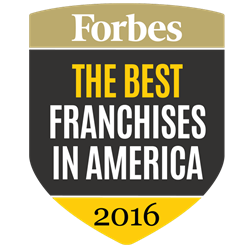 We've worked very hard over the past 25 years to make sure all our employees, franchisees and clients are getting the most out of MaidPro. - Chuck Lynch
Boston, MA (PRWEB) July 06, 2016
MaidPro named #6 Best Franchise to Own by Forbes for 2016. This is the second consecutive year the residential cleaning franchise has been selected by Forbes. The best (and the worst) franchises in overall health and appeal were determined based on metrics from FRANdata who analyzed over 3,300 franchises across America. The rankings were then determined by system sustainability, system demand, franchisor support, franchisor stability and value for investment. Forbes went on to state, "the best franchisors will support you with strong brands, innovative products and creative marketing." MaidPro is honored to be acknowledged by such an esteemed publication. Chuck Lynch, VP of Planning and Development, stated, "We've worked very hard over the past 25 years to make sure all our employees, franchisees and clients are getting the most out of MaidPro. Having the support from Forbes is a dream come true." Earlier this year MaidPro was also honored by CNBC for having one of America's Top 50 Franchisees.
To get a free estimate for housecleaning services from MaidPro please visit http://www.maidpro.com.
ABOUT MAIDPRO
MaidPro is a Boston-based franchisor of house cleaning services with over 200 locations in 38 states, the District of Columbia and Canada. The company, which began franchising in 1997, takes pride in its strong owner community, cutting-edge technology and creative marketing. It has been honored with the Franchise Business Review's Four-Star Rating and Franchise 50 awards every year from 2006 to 2016 for owner satisfaction. MaidPro was named one of the Top 50 Franchises for Minorities by USA Today's Franchising Today. MaidPro is also a proud member of the International Franchise Association and the New England Franchise Association. The company can be found online at http://www.maidprofranchise.com.