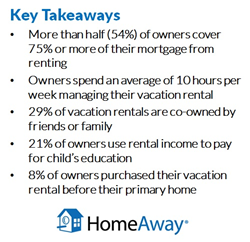 The most consistent statistic observed throughout the life of HomeAway's Vacation Rental Report is the ability for homeowners to cover the cost of ownership through renting to travelers.
AUSTIN, Texas (PRWEB) June 29, 2016
HomeAway®, the world leader in vacation rentals, released the findings of its latest HomeAway Vacation Rental Report, a survey of U.S. vacation rental owners on the successful rental year to date and a look ahead to a strong and profitable summer booking season.
The home that pays for itself:
The most consistent statistic observed throughout the life of HomeAway's Vacation Rental Report is the ability for homeowners to cover the cost of ownership through renting to travelers. Again in 2016, nearly three-quarters (70 percent) of vacation rental owners are able to cover more than half of their mortgage through renting, and more than half (54 percent) cover three-quarters or more of their mortgage.
According to the National Association of Realtors*, of the 920,000 vacation homes purchased in 2015 in the U.S., the average purchase price was $192,000 and 61% of buyers used a mortgage to finance and will count on the income from renting to pay down the newly acquired cost of ownership.
The salary of a vacation rental owner:
Survey responses show that vacation rental income comprises about a quarter (24 percent) of the average owner's income, from investing just fewer than 10 hours per week in the management and marketing of their vacation rental.
From that relatively small amount of time spent advertising, fielding traveler inquiries and coordinating the cleaning and maintenance of their property, owners use the money to pay off the mortgage (38 percent), upgrade and renovate the property (70 percent), fund their everyday living expenses (23 percent) and save for retirement (11 percent).
The flexibility of vacation rental ownership is certainly beneficial to vacation rental owners as HomeAway has observed the average owner grosses $28,000 in annual income** from renting to families and groups. From an investment of 10 hours per week, an owner is essentially making an "hourly salary" of $54 per hour spent working towards the booking of his/her property.
"The clear benefits of vacation rental ownership start with the personal enjoyment a family can experience with their own vacation home," said Brian Sharples, HomeAway co-founder and CEO. "But the simple mathematics of renting that home to travelers and making a significant dent in your mortgage, and even increasing your family's annual income, is an excellent bargain in a world where vacation rentals are growing more and more popular."
Sharing the cost of ownership:
A notable trend the Vacation Rental Report has uncovered is the shared ownership of vacation rentals. The same 29 percent of properties for the survey's last two years are owned by more than one person, most often with a family member or friend. Co-ownership is another method to ease the financial burden of taking on an additional property.
The concern of return-on-investment, according to the survey, is not a concern for most, as the average vacation rental has been owned for 6.5 years and has appreciated $184,066 over that period of time. With pooled resources from a family member or friend, equity growth, a continuing stream of travelers paying to rent and the opportunity for personal and family use, vacation rental investment can be a healthy investment.
Translating concern into a successful business:
Most vacation rental owners wait for 1.4 years before renting their home to travelers, citing various reasons for the delay. The vast majority (84 percent) of those who held reservations prior to the rental of their home were most concerned about property damage.
Debunking the concern over property damage, HomeAway insurance partner CBIZ Insurance Services, creator of the HomeAway Assure home insurance policy, notes less than one percent of claims filed are attributed to damage committed by a short-term renter. The types of claims are nearly all accidental damage committed and the average payout is less than one thousand dollars each.
"Many people entering the vacation rental market do so with a sliver of reservation, and for good measure," added Sharples. "But time has proven that vacation rental travelers, by-and-large, treat the vacation homes with respect, preferring a personal and unique stay over a cramped hotel room."
Another reason noted for owners not turning over the keys sooner is the worry that they would not be able to use the home personally as much as they would like to (23 percent). The most common reason (33 percent) for purchasing a vacation rental is indeed for personal use, but surprisingly, owners only spent seven days in their rental over the course of the year.
From separate research done with HomeAway vacation rental owners, the average vacation rental books about 18 weeks each year**, leaving a large amount of time for personal use, or the use of family and friends.
Of those who would like to spend more time in their vacation rental, 24 percent of owners wish to have more vacation days to use throughout the year, 41 percent would prefer fewer work or family commitments in order to utilize their vacation rental personally.
Additional key findings in the Vacation Rental Report:

The average age when owners began renting their home is 49.5 years old, 6.5 years younger than last year's respondents
21 percent use or plan to the use the income he/she received from the rental of their property to pay for their child's education.
Of those who've rented their homes for large events (31 percent), the rental rates are $89 higher per night – translating into a 40 percent revenue increase for the timeframe (based on the U.S. average rate of $220 per night**)
8 percent of vacation rental owners claim to have purchased their vacation home before their primary home
About HomeAway
HomeAway, based in Austin, Texas, is the world leader in vacation rentals with sites representing more than one 1.2 million paid listings of vacation rental homes in 190 countries, and is a part of the Expedia, Inc. family of brands. Through HomeAway, owners and property managers offer an extensive selection of vacation homes that provide travelers with memorable experiences and benefits, including more room to relax and added privacy, for less than the cost of traditional hotel accommodations. The company also makes it easy for vacation rental owners and property managers to advertise their properties and manage bookings online. The HomeAway portfolio includes the leading vacation rental websites HomeAway.com, VRBO.com and VacationRentals.com in the United States; HomeAway.co.uk and OwnersDirect.co.uk in the United Kingdom; HomeAway.de in Germany; Abritel.fr and Homelidays.com in France; HomeAway.es and Toprural.es in Spain; AlugueTemporada.com.br in Brazil; HomeAway.com.au and Stayz.com.au in Australia; Bookabach.co.nz in New Zealand; and Asia Pacific short-term rental site, travelmob.com. The company also operates BedandBreakfast.com, the most comprehensive global site for finding bed-and-breakfast properties, providing travelers with another source for unique lodging alternatives to chain hotels. For more information about HomeAway, please visit http://www.homeaway.com.
© 2016 HomeAway.com, Inc. All rights reserved. HomeAway, HomeAway.com and the HomeAway logo are trademarks of HomeAway.com, Inc. All other marks are property of their respective owners.
__________________
Data for the HomeAway Vacation Rental Report was collected via surveys that polled HomeAway customers who own vacation rentals. Based on HomeAway.com, Inc. internal customer research, owner results are based on 663 responses received between March 29 and April 10, 2016. Market trends were based on a combination of in-depth research of renter and traveler information from the HomeAway.com, Inc. database.
Source: 2016 National Association of Realtors Investment and Vacation Home Buyers Survey
** Source: HomeAway Customer Satisfaction Survey, Q1 2016, of 1,253 owners listing on HomeAway.com, VRBO.com & VacationRentals.com.