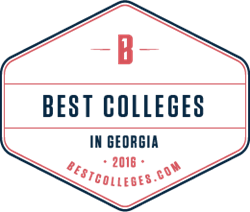 Houston, TX (PRWEB) June 29, 2016
BestColleges.com has released its 2016 rankings of the best four-year, two-year and online higher learning institutions in Georgia. The rankings methodology is based upon data curated by the National Center of Education Statistics (NCES). Factors include affordability, enrollment and graduation rates, and additional measures of positive student outcomes. With these guides, BestColleges.com strives to provide a comprehensive resource for college-bound men and women exploring academic options within the Peach State.
Georgia's universities are best known for polytechnic, agriculture and business-oriented programs. The state also boasts a relatively large number of Historically Black Colleges and Universities (HBCUs). Additionally, all public colleges and universities in Georgia are at least partially supported by the state legislature, and all high school students who maintain a 3.0 GPA at graduation automatically qualify for a HOPE Scholarship.
BestCollege's four-year ranking list is topped by the University of Georgia. With an enrollment of more than 35,000 students and more than 140 degree programs, the Athens institution is a popular academic destination for students across the Southeast. The second slot goes to Emory University, a school noted for its diversity -- 22% of students are Asian/Pacific Islander, 10% identify as black and 14% are international students. Georgia Southern University, Wesleyan University and Georgia State University respectively finished off the top five.
Southeastern Technical College landed in first place on the ranking of the state's two-year schools. This Vidalia school offers lower in-state and out-of-state tuition rates than any other institution in the top 25 list. Notably, all but one of the top 10 two-year schools is categorized as a 'technical college'; these make up part of the Technical College System of Georgia (TCSG), a conglomeration of 23 different institutions. The TCSG has worked closely with the University System of Georgia (USG) to create Georgia's Higher Education Completion Plan, an initiative designed to improve college accessibility to prospective students and increase the number of degree and professional certificate-holders throughout the state.
Listed below are the top 10 schools in each category:
Best Four-Year Colleges in Georgia
1 University of Georgia - Athens, GA
2 Emory University - Atlanta, GA
3 Georgia College & State University - Milledgeville, GA
4 Georgia Southern University - Statesboro, GA
5 Wesleyan College - Macon, GA
6 Georgia State University - Atlanta, GA
7 Agnes Scott College - Decatur, GA
8 Spelman College - Atlanta, GA
9 Berry College - Mount Berry, GA
10 University of West Georgia - Newnan, GA
Best Two-Year Colleges in Georgia
1 Southeastern Technical College - Vidalia, GA
2 Southwest Georgia Technical College - Thomasville, GA
3 Oconee Fall Line Technical College - Sandersville, GA
4 Lanier Technical College - Oakwood, GA
5 Moultrie Technical College - Moultrie, GA
6 College of Coastal Georgia - Brunswick, GA
7 North Georgia Technical College - Clarkesville, GA
8 Ogeechee Technical College - Statesboro, GA
9 Albany Technical College - Albany, GA
10 Wiregrass Georgia Technical College - Valdosta, GA
Best Online Colleges in Georgia
1 Georgia Southern University - Statesboro, GA
2 University of Georgia - Athens, GA
3 Toccoa Falls College - Toccoa, GA
4 University of West Georgia - Newnan, GA
5 Georgia College & State University - Milledgeville, GA
6 Clayton State University - Morrow, GA
7 Columbus State University - Columbus, GA
8 Kennesaw State University - Kennesaw, GA
9 Brenau University - Gainesville, GA
10 Albany State University - Albany