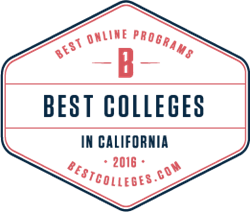 Houston, TX (PRWEB) June 29, 2016
BestColleges.com recently published its list of the top 25 online colleges in California. Pulling data from the National Center for Education Statistics (NCES), colleges were evaluated based on their acceptance rate, average class size, financial aid packages, and a variety of other factors central to the student experience. As part of the rankings, BestColleges.com also published detailed profiles outlining each school on its list. Students can use these profiles to evaluate each school's tuition and admission rates, along with key demographic information.
The University of La Verne is the top-ranked school in California. Offering several bachelor's degrees, a range of continuing education courses, and premier resources for distance learners. The school serves as a national model for the potential of online education. La Verne was followed by Simpson University and California State – Dominguez Hills. Biola University and California State – Fullerton rounded out the top five.
An NCES report from 2012 revealed that approximately 6% of postsecondary students in California are enrolled in entirely online programs. While that number is lower than in many other states, online enrollment growth rates in California mirror national norms. Most of California's online students are undergraduates, and nearly 88% are in-state residents. Given that the online enrollment rates for two-year schools substantially exceeded that of four-year colleges, it is safe to expect online enrollment rates at four-year schools to climb in the near future.
Beyond the rankings, BestColleges.com provides a helpful review of California's Master Plan for Higher Education. The plan's overarching goal is to help more residents in California attend college and earn a degree. To help students financially, California allows students to receive full tuition and fee reimbursements, provided that their family debt totals more than $101,000, among other measures. The guide also covers the success of the recently launched California Community Colleges Online Education Initiative. The initiative has helped thousands of students complete an associate degree by expanding the number of available online community college courses.
The top 10 best online colleges in California are listed below:
1 University of La Verne - La Verne, CA
2 Simpson University - Redding, CA
3 California State University, Dominguez Hills - Carson, CA
4 Biola University - La Mirada, CA
5 California State University, Fullerton - Fullerton, CA
6 Fresno Pacific University - Fresno, CA
7 California State University, Sacramento - Sacramento, CA
8 Vanguard University of Southern California - Costa Mesa, CA
9 California State University, East Bay - Hayward, CA
10 California State University, Channel Islands - Camarillo, CA