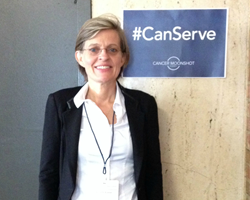 "It's an inspiration to see everyone come together – academia, industry, government, and patients – all with one common goal – to find a cure for disease in our lifetime."
New York, NY (PRWEB) June 29, 2016
As top scientific leaders convene today in Washington, D.C. at the invitation of Vice President Joseph Biden, among them is Children's Tumor Foundation President and Chief Scientific Officer Annette Bakker, PhD. The effort, called the National Cancer Moonshot Summit, is dedicated to shortening the length of time it takes to develop effective treatments for cancer in particular, and disease in general. The first-of-its-kind summit is focused on promoting collaboration among researchers, industry and patients, and to breaking down the barriers that hamper progress.
The Children's Tumor Foundation (CTF) is the leading nongovernmental medical research organization dedicated to developing treatments for the genetic disorder neurofibromatosis, also known as NF, which affects 1 in 3,000 births of all populations, and causes tumors to grow on nerves throughout the body. It can lead to blindness, deafness, learning disabilities, disfigurement, bone abnormalities, disabling pain, and cancer.
CTF has long advocated for and funded team-based research, through the NF Therapeutic Consortium (NFTC) and more recently in its creation and funding of Synodos, a collaboration of researchers from leading research institutions, all dedicated to the sharing of data and information across research disciplines. This has culminated in the first ever open-data release in the field of NF, announced last week at the Foundation's NF Conference. It has also led to positive results in early stage clinical trials for NF, currently ongoing, that have seen reduction in tumor size in pediatric patients.
"It's an honor to be here at the Cancer Moonshot Summit at the invitation of the Vice President," said Annette Bakker, President and Chief Scientific Officer of the Children's Tumor Foundation. "And it's an inspiration to see everyone come together – academia, industry, government, and patients – all with one common goal – to find a cure for disease in our lifetime."
The Children's Tumor Foundation is committed to finding effective treatments for the millions of people worldwide living with neurofibromatosis. In addition to benefiting those who live with NF, this research is shedding new light on several forms of cancer, brain tumors, bone abnormalities, and learning disabilities, ultimately benefiting the broader community. To learn more, visit http://www.ctf.org.