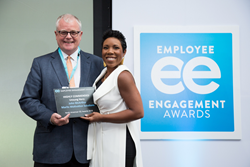 St. Louis, MO. (PRWEB) June 30, 2016
Maritz Motivation Solutions, a leader in providing employee recognition programs to US and global companies, announced that President John McArthur was honored at the Employee Engagement Awards and Summit held on June 22 in Chicago. The combined awards and conference is dedicated to inspiring and recognizing employee engagement across North America and internationally.
The event recognized and awarded employee engagement in 16 categories. McArthur was honored in the "Unsung Hero" category.
"John sweats the small stuff, such as sending personal notes to employees on birthdays and service anniversaries. He sets the tone and example for our company by connecting with people on a personal level. And he supports above and beyond perks which help keep morale high," said Kimberly Abel-Lanier, VP and General Manager for CultureNext® workforce solutions at Maritz Motivation Solutions.
"I am delighted to have received this award. Because employee recognition and engagement programs are what we do at Maritz Motivation Solutions, it is especially important that our internal culture complement the Maritz vision and help us excel in our work for clients," McArthur said.
About Maritz Motivation Solutions
Maritz Motivation Solutions has been a global leader in employee recognition for over 75 years. Our CultureNext® solution empowers employees to transform their organizations into amazing places to work. CultureNext provides organizations with flexible technology, tools, services and expansive rewards to help connect people worldwide to create a culture of engagement, passion and purpose. For more information, visit us at http://go.maritzmotivation.com/culturenext.
# # #