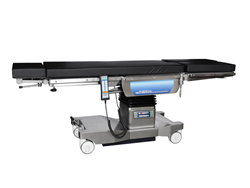 (PRWEB) June 30, 2016
DRE Medical — a leading medical equipment distributor — recently expanded its line of medical equipment to include the DRE Torino 550 Mobile Surgery Table.
The DRE Torino 550 Mobile Surgery Table is a modern take on traditional medical equipment designs, outpacing its competitors in both attributes and value.
With large, durable casters and a convenient braking system, medical professionals can easily move the DRE Torino 550 Surgery Table throughout their facilities. The DRE Torino 550 can be easily transported to many different surgical rooms during a procedure, therefore saving more space in facilities where space is at a premium.
The DRE Torino 550 has multiple electronic movements via remote control:

Trendelenburg
Reverse Trendelenburg
Lateral tilt
Longitudinal slide
Through electronic table adjustments, surgeons can easily position the patient for various medical procedures. The DRE Torino 550 now offers a backup battery for continued use in the event of a power failure. Along with the emergency backup battery, the Torino 550 features an override control panel at the base of the unit if the handheld remote control is unavailable.
For more information about the new DRE Torino 550, visit dremed.com or call a sales representative at 1-866-929-3152.
About DRE Medical
Since 1984, DRE has worked to be a single supplier for all major operating room equipment and surgical equipment. Inc. magazine named DRE to its annual Inc. 5000 list of the nation's fastest-growing companies for three consecutive years. DRE, Inc. is based in Louisville, Ky.