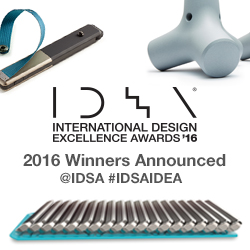 "There's so much opportunity for design to have a positive impact—by solving real needs and shaping a brighter future."
Herndon, VA (PRWEB) July 01, 2016
Showcasing designs that are used every day, and products featuring first-of-a-kind innovations, the Industrial Designers Society of America (IDSA) has announced the 136 winners of the 36th annual International Design Excellence Awards (IDEA). IDSA Board of Directors Chair and former IDEA Jury Chair John Barratt hails the competition as "the authority on design."
Winners span a wide range of 21 categories including social impact; medical and scientific; transportation; home and garden; office; personal accessories; children's products; sporting goods; and much more. Which entries won Gold and which won Silver will be revealed August 17, 2016 at the iconic Henry Ford Museum in Dearborn, MI in a grand IDEA Ceremony and Samsung-sponsored Gala—coinciding with the kickoff of the IDSA International Conference in Detroit from August 17 to 20.
More than 1,700 design projects from 30-plus countries entered IDEA 2016. Jury Chair Cameron Campbell, IDSA, led a team of global design experts from June 3 to 6 at The Henry Ford to judge more than 600 finalists. The result—26 Gold; 47 Silver; and 63 Bronze IDEA winners. "I value the critical discussions with my peers from diverse disciplines in defining the best of design," says Campbell.
"There's so much opportunity for design to have a positive impact—by solving real needs and shaping a brighter future," says IDEA 2016 Juror Dickon Isaacs, IDSA.
"Good industrial design is more than just the creation of a beautiful object," says IDEA 2016 Juror Steven Umbach, IDSA. "It means optimizing a situation or solving a problem typically in a commercial setting with emphasis on form, function, manufacturing and business constraints; and especially empathy for the intended user group."
A selection of IDEA 2016 winners will be showcased in an exhibit beginning July 11 at The Henry Ford. Several other awards such as People's Choice and Best in Show also will be announced at the IDEA 2016 Ceremony, which is free and open to the public. Gala tickets can be purchased in advance or on site.
Follow the excitement leading to the big reveal on August 17 on #IDSAIDEA—and to the International Conference on #IDSADetroit16—on Twitter @IDSA; Industrial Designers Society of America on Facebook and LinkedIn; and @IDSAdesign on Instagram. Contact SudhaK(at)idsa.org to schedule interviews and photos with IDEA jurors and winners and International Conference speakers. Contact KatrinaK(at)idsa.org for sponsorship opportunities.
Founded in 1965, the nonprofit IDSA is one of the oldest and largest membership associations for industrial design professionals, with thousands of members in dozens of Professional Chapters, Student Chapters and Special Interest Sections in the United States and internationally. IDSA sponsors IDEA®, the world's most prestigious and rigorous design competition. The Society hosts events including an annual International Design Conference, five District Design Conferences and a Medical Design Conference—bringing together some of the biggest names and brightest minds in industrial design and related fields. Global outreach includes designUpdate and designBytes e-newsletters; INNOVATION magazine; and the Yearbook of Design Excellence featuring IDEA, IDSA Award and Student Merit Award winners. IDSA Ambassadors support and promote industrial design with research and thought leadership.