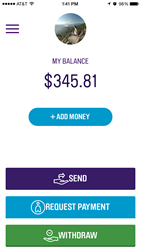 Mountain View, CA (PRWEB) June 30, 2016
Abra, the company changing how people send and receive money around the world, today announced that the Abra smartphone app is available on iPhone and Android in the U.S. Now, anyone in the U.S. can download the app, fund their Abra wallets instantly with their bank accounts, and send money for free to other users simply by typing in the recipient's phone number.
Recipients in both the U.S. and the Philippines can withdraw their cash to their bank accounts; in addition, recipients in the Philippines can add or withdraw cash at a local Abra teller. It's just as easy to send money from the Philippines to the U.S. Abra recently launched in the Philippines, where consumers use the app to send money to friends and family and buy things online, even if they don't have a credit card or bank account. The Abra app will be available in additional countries later this year.
Abra is a digital wallet using blockchain technology that allows people to store digital cash on their smartphones and send it to anyone else with the app. Because Abra is built on the public blockchain instead of traditional banking systems, cash is transferred instantly and available for withdrawal nearly immediately anywhere in the world -- instead of the three to five days it can take to move money between bank accounts or traditional digital wallets. And because there is not a network of middlemen along every step of the transaction, Abra transactions cost less than typical money transfers and remittances.
"The U.S. is the largest single source of cross border money transfers in the world, so bringing Abra to the U.S. market is an important step toward realizing our global vision," said Bill Barhydt, founder and CEO of Abra. "The same way messaging apps like WhatsApp and Skype have made it easier to communicate with people overseas, Abra will make it just as easy to transact with people around the world. Our vision is to make it possible for the first time to send money instantly and securely between any two smartphones with or without a bank account -- regardless of location, currency, or mobile phone operator."
Cross-border remittances now top $500 billion per year, generating more than $25 billion in fees, according to the World Bank. Analysts expect cross-border e-commerce to top $1 trillion by 2020, yet 2 billion people around the world do not have bank accounts.
Abra aims to make money more accessible to those consumers by launching a whole new network of Abra tellers: "human ATMs," who are individuals or businesses earning money by buying and selling digital cash to and from any consumer via the Abra App. The company has already begun deploying a teller network in the Philippines and has received pre-registrations for Abra tellers in more than 75 countries.
It is free to add or withdraw money from your bank account and to send money with Abra. Recipients pay a small fee when adding or withdrawing cash from an Abra teller. Foreign exchange rates are clearly displayed in the Abra app for every transaction and are typically much lower than other cross-border options. For example, if someone sends $500 from the U.S. to the Philippines using Abra, the recipient will receive 12 percent more pesos than with a typical bank transfer, and the money will get there much faster.
The Abra app can be downloaded today via the Apple App Store and Google Play.
About Abra
Abra is making cash mobile. We enable anyone to store digital cash, valued in any currency, directly on your phone with no bank required. Send cash instantly to anyone with a smartphone, anywhere in the world. Our network of Abra tellers -- individuals or businesses who facilitate the buying and selling of digital cash -- makes financial services more accessible for consumers and creates new business opportunities around the world. Abra is available on Android and iPhone.
###