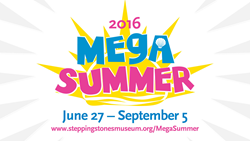 These themed weeks incorporate indoor and outdoor activities to keep children active and learning all summer long.
Norwalk, CT (PRWEB) June 29, 2016
Stepping Stones Museum for Children adds fun and activity to this year's summer with different themed weeks throughout the entire months of July, August and September. These themed weeks incorporate indoor and outdoor activities to keep children active and learning all summer long. No matter the weather, Stepping Stones will have events, activities and mega fun the entire season.
It all kicks off on June 27 for Super Hero Week. From June 27 to July 23, Super Hero Week will get kids involved at the museum and create their own super hero mask and Green Lantern ring. Plus, a laser beam obstacle course will be out in the Celebration Courtyard. During this week, the museum members are the heroes. Their support is essential in the running of the museum, and therefore time to appreciate them is important!
The rest of the summer's themed weeks are as follows:
July 4 – 10 : Build-a-Thon

Build a house using just straws and tape!
Aspiring engineers will build a bridge across tables.
Join challenges using jumbo blue blocks in the Celebration Courtyard.
July 11 – 17 : Ancient Civilizations

Use paper plates, string and a hole puncher to create beautiful Chinese paper dragons.
Escape into the world of ancient mythology in the Readers Theater.
Create a Lotus Lantern using household materials.
Learn all about erosion with an interactive sugar cube experiment.
July 18 – 24 : Animals

Animal yoga is always a visitor favorite!
Build a real bird feeder to take home.
Make an animal mask.
BooZoo will be hanging out all week in the museum for surprise appearances!
July 25 – 31 : Elements

Learn all about Air, Water, Earth, Wind and Fire through fun experiments, like creating a balloon rocket.
Join in the Celebration Courtyard for water play! Don't forget to pack bathing suits!
Aug. 1 – 7 : Olympics

We're celebrating the Summer Olympics all week with friendly competitions and Olympics-inspired art projects.
Join us for a special visit from local author Karlin Hill, who will be reading her new book about gymnast Nadia Comaneci. Book signing to follow!
Aug. 8 – 14 : Dinosaurs

Create a dinosaur costume in Making Space and join the Dinosaur Parade around the museum.
Search the museum for dinosaur clues as part of a scavenger hunt.
Aug. 15 – 21 : Renaissance Fair

We'll introduce our visitors to some fun and timeless medieval children's games.
Make a shield, a jousting stick and a stained-glass window in Making Space.
Transform the Celebration Courtyard into a castle.
Aug. 22 – 28 : Astronomy

Join us for another scavenger hunt! Try and find all the zodiac signs hidden throughout the museum.
Make a constellation flashlight to use at home. Watch the ceiling transform into a mini planetarium!
Aug. 29 – Sept. 5 : Simple Machines

Tinker and make robots and pulleys.
Learn woodworking skills using real tools.
To learn more about Stepping Stones Museum's upcoming Mega Summer events and activities, visit http://www.steppingstonesmuseum.org/MegaSummer or call today.
About the Company:
Stepping Stones Museum for Children, celebrating its 16th birthday this year, is an award-winning, private, non-profit 501 (c) (3) children's museum committed to broadening and enriching the lives of children and families. Stepping Stones Museum for Children is located at 303 West Ave., Norwalk, CT, exit 14 North and 15 South off I-95. Museum hours are: Memorial Day through Labor Day, Monday-Sunday from 10 a.m.-5 p.m. and Labor Day through Memorial Day, Tuesday—Sunday and select holiday Mondays from 10 a.m.-5 p.m. Admission is $15 for adults and children and $10 for seniors. Children under 1 are free. For more information about Stepping Stones, to book a field trip or schedule a class, workshop or facility rental call 203-899-0606 or visit http://www.steppingstonesmuseum.org.
Facebook: http://www.facebook.com/steppingstonesmuseum
Twitter: @steppingstones
Instagram: https://instagram.com/steppingstonesmuseum/