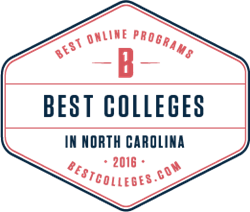 Houston, TX (PRWEB) June 30, 2016
BestColleges.com just published its list of the top 25 online colleges in North Carolina. Using data from the National Center for Education Statistics (NCES), schools were evaluated and ranked based on their average class size, acceptance rate, available financial aid packages, and a variety of other factors integral to the student experience. Alongside these rankings, BC also included a thorough profile outlining the merits of each ranked college. Here, prospective students can compare tuition and admission rates, along with key demographic information.
North Carolina State University is the top-ranked online college in North Carolina. Offering a variety of degrees across disciplines, a range of continuing education programs, and helpful online resources, the college has established itself as a leader in distance education. North Carolina State was followed by Piedmont International University and the University of North Carolina at Greensboro. Gardner-Webb University and the University of North Carolina at Charlotte rounded out the top five.
A 2014 NCES report revealed that over 11% of postsecondary students in North Carolina were enrolled in entirely online programs. Additionally, over 23% of undergraduates reported taking some online courses while not exclusively studying remotely. Most of the state's online students were undergraduates, and nearly 91% were in-state residents.
Beyond the rankings, BestColleges.com provides a helpful review of North Carolina's online learning environment. Among the many benefits associated with online education in the state is the flexibility that it allows. Currently, any student admitted into the University of North Carolina system is permitted to take online classes from any of the other 16 public four-year schools in the state. This gives students the chance to pursue a broader range of classes and majors than they might otherwise.
Additionally, North Carolina's Virtual Learning Community provides students with increased access to online courses in a variety of subjects. The community is an organization comprising 58 of the state's community colleges, which have joined forces to help students from all demographics and backgrounds access the classes they need to complete a degree.
Below, you'll find the 10 best online colleges in North Carolina:
1 North Carolina State University - Raleigh, NC
2 Piedmont International University - Winston-Salem, NC
3 University of North Carolina at Greensboro - Greensboro, NC
4 Gardner-Webb University - Boiling Springs, NC
5 University of North Carolina at Charlotte - Charlotte, NC
6 University of Mount Olive - Mount Olive, NC
7 North Carolina Central University - Durham, NC
8 Winston-Salem State University - Winston-Salem, NC
9 Pfeiffer University - Misenheimer, NC
10 Fayetteville State University - Fayetteville, NC