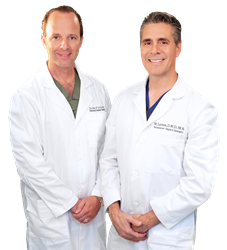 Miami, FL (PRWEB) July 25, 2016
John Paul Gallardo, D.D.S., P.A. and William P. Lamas, D.M.D., M.S., periodontists and implant specialists at Gallardo & Lamas Periodontics and Implant Dentistry, are excited to bring patients custom-tailored crown lengthening techniques for restorative and aesthetic results. Crown lengthening from Drs. Gallardo and Lamas can significantly improve a 'gummy smile', as well as fight excess tooth decay.
Crown lengthening is a technique designed to restore a healthy proportion between the gingiva and bone. This allows for increased access to the teeth and a long lasting foundation for future dental procedures. By reshaping the bone and gum tissue, teeth will also look more attractive.
Situations that require the crown lengthening include teeth that have worn down, decayed or broken. Exposing the tooth allows crowns, fillings and routine dental work to be more easily performed. Additional reasons for the crown lengthening procedure involve aesthetic improvements, as with the 'gummy smile', or a disproportionately exposed gumline. One tooth or a full mouth can be successfully treated.
Gallardo & Lamas Periodontics and Implant Dentistry provide patients this cutting-edge crown lengthening technique understanding it would also improve the aesthetics of the teeth and gums, and therefore restore patient self-esteem.
"Our training as periodontists gives us the background in handling fine tissue with finesse. The beauty of our specialty is that is tempers with science and art," said Dr. Gallardo.
To help people overcome their fear of dental procedures, a local anesthetic normally provides adequate comfort. Conscious sedation is also available, taking away the nervous apprehension of dental work, without the risks from IV sedation.
The Miami dental implant specialists and periodontists at Gallardo & Lamas Periodontics and Implant Dentistry are highly respected by both patients and peers for their exceptional, specialty dental care. Dr. Gallardo is a national expert on gum disease and dental implants and Dr. Lamas is an assistant clinical professor at the University of Florida College of Dentistry.
The crown lengthening procedure is now available at Gallardo & Lamas Periodontics and Implant Dentistry in Miami. To speak with a patient coordinator for additional information, or to schedule a free consultation, call the office at 305.447.1447. Drs. Gallardo and Lamas strive to provide compassionate care coupled with safe and effective results.
Contact:
Gallardo & Lamas Periodontics and Implant Dentistry
2020 SW 27th Avenue
Miami, Florida 33145
305.447.1447
http://www.miamiperio.com