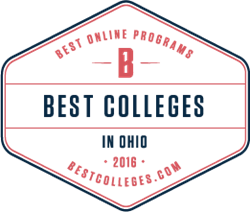 Houston, TX (PRWEB) June 30, 2016
BestColleges.com just released its ranking of the top 25 Ohio colleges with online programs. Using data from the National Center for Education Statistics (NCES), BC weighed several factors, including average class sizes, acceptance rates, and financial aid offerings. Armed with this information, prospective students in the Buckeye state can confidently choose which online school offers them the best path toward affordably reaching their academic and career goals.
Beyond the rankings, students can learn additional information about online colleges in Ohio. The state currently has 154 schools that offer online degrees in some form. Some may be fully online while others only offer one or two distance programs. Among these schools, Ohio University took the top spot, followed by the University of Cincinnati, Ohio State University, Wright State University, and Kent State University.
According to data from a 2012 NCES report, approximately 10% of postsecondary students in Ohio were enrolled in entirely online programs. Around 80% of online students in Ohio were undergraduates, and over 75% of them were in-state residents. Just over 37% of online students in Ohio attended a public university, while 11% of students attending two-year schools enrolled exclusively in online classes.
Beyond the rankings, BestColleges.com provides helpful information regarding Ohio's eTutoring program, which is free for both students and schools. Through the program, students have access to remote tutoring services using chat room software, document sharing, and an online whiteboard. Audio and video software is used to connect students to tutors in real time. Though not all schools participate, the eTutoring program may prove particularly beneficial for some students. Additionally, the guide notes that Ohio recently launched the Program Share project, which allows students enrolled in the Ohio University System access to online classes offered at all schools throughout the system. Through these initiatives, online college students in Ohio provide more support and flexibility to students than ever before.
The 10 best online colleges in Ohio are listed below:
1. Ohio University - Athens, OH
2. University of Cincinnati - Cincinnati, OH
3. Ohio State University - Columbus, OH
4. Wright State University - Celina, OH
5. Kent State University - Kent, OH
6. Tiffin University - Tiffin, OH
7. Ohio Christian University - Circleville, OH
8. University of Toledo - Toledo, OH
9. Baldwin Wallace University - Berea, OH
10. Cleveland State University - Cleveland, OH