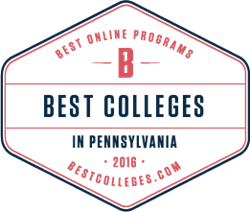 Houston, TX (PRWEB) June 30, 2016
BestColleges.com has just released its 2016 ranking of the best online colleges in Pennsylvania. The ranking was made using a comprehensive methodology that measures affordability, enrollment, graduation rates, student success rates, and other data collected by the National Center for Education Statistics (NCES). All online colleges included in the list have been fully accredited by the Council on Higher Education Accreditation (CHEA), ensuring that distance programs meet the highest academic quality standards. The ranking aims to guide prospective students as they search for an accredited online college that suits their budget, schedule, and desired career path.
Pennsylvania has emerged as a leader in online education since the 1998 launch of the Penn State World Campus, considered one of the first and most distinguished fully online degree services. The ranking report notes that all 14 universities in Pennsylvania's State System of Higher Education now offer online academic programs and individual courses. The report also highlights the prevalence of online enrollment in the state. Approximately 63.5% of students enrolled in Pennsylvania's Title IV institutions in 2012 were taking fully online undergraduate programs; more than half of these students were living in-state, while the rest were completing distance programs elsewhere in the United States.
To accommodate the growing number of students enrolled in online education in Pennsylvania, The State System of Higher Education introduced PA Universities Online, a database for students to search for accredited online academic programs and courses. The report notes that the Pennsylvania Distance Learning Association (PADLA) was also created to provide forums, events, and resources for higher education professionals in e-learning. This serves as a reflection of how much support has been made available to meet the needs of the state's growing online learning community.
Each school included in this year's ranking provides students with a range of degree options and around-the-clock access to coursework and online support. Most programs can be completed either entirely online or in a hybrid online/on-campus format. The top-ranked online school, Pennsylvania State University, offers a generous in-state tuition for Pennsylvania e-learners. Villanova University, ranked second, allows students to pursue undergraduate degrees, graduate degrees, and certificate programs completely online.
The 10 best online colleges in Pennsylvania are listed below:
1. Pennsylvania State University - University Park, PA
2. Villanova University - Villanova, PA
3. Chatham University - Pittsburgh, PA
4. Duquesne University - Pittsburgh, PA
5. Temple University - Philadelphia, PA
6. Susquehanna University - Selinsgrove, PA
7. Slippery Rock University of Pennsylvania - Slippery Rock, PA
8. Misericordia University - Dallas, PA
9. Millersville University of Pennsylvania - Millersville, PA
10. La Roche College - Pittsburgh, PA