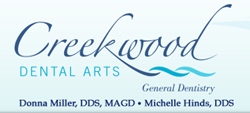 Waco, TX (PRWEB) June 30, 2016
Drs. Donna Miller and Michelle Hinds now accept new patients, including people who do not have referrals, to their practice, Creekwood Dental Arts, for dental implant restorations in Waco, TX. The doctors recommend this treatment as a long-term solution to tooth loss and its many adverse side effects. Besides offering convenience and functionality for patients, implants offer patients a solid solution to replace their missing teeth with a new crown that is completely customized to match their bite and their surrounding natural teeth.
To accommodate the unique needs of each patient, Drs. Miller and Hinds offer complete restoration of patients' dental implants, including single implants or dental bridges. After strong titanium implants have been placed in the jawbone, they fuse with the bone, stimulating healthy bone growth and offering unrivaled stability. Drs. Miller and Hinds then take detailed impressions of each patient's mouth, create personalized crowns and ensure all adjustments necessary are made before patients leave with an improved smile.
Patients with missing teeth may be at probable risk for various health complications. Tooth loss can affect bite alignment, as neighboring teeth may lean into the gap that a tooth has left behind. This can result in bite issues, loosening of the teeth and localized pain, which may affect a person's ability to eat a balanced and healthy diet. People with missing teeth also are vulnerable to loss of density of the underlying jawbone, which can cause a prematurely aged facial appearance. Since implants offer a functional replacement for lost teeth, patients who receive dental implants in Waco, TX, and complete their restorations with Drs. Miller and Hinds can avoid all of these issues.
Patients who would like more information from experienced doctors regarding dental implant restorations are urged to visit the doctors' website at CreekwoodDentalArts.com. Patients who wish to learn whether they are good candidates to receive dental implants in Waco, TX, are invited to schedule consultations with Drs. Miller and Hinds by calling Creekwood Dental Arts at (254) 870-9026 or visiting the practice website.
About the Practice
Creekwood Dental Arts is a general dental practice offering personalized dental care to patients in Waco, TX. Drs. Donna G. Miller and Michelle Hinds provide an array of services with state of the art technology. Dr. Miller has been honored to receive The Mastership Award from the Academy of General Dentistry, the highest and most respected award in general dentistry. To learn more about Drs. Miller and Hinds or the services they offer, please visit their website at CreekwoodDentalArts.com or call (254) 870-9026 to schedule an appointment.