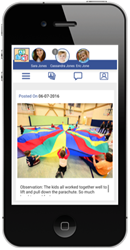 LifeCubby helps me stay connected to my child while I'm at work -- Cheri Bourne, parent
Columbus, Ohio (PRWEB) June 30, 2016
This week app developer LifeCubby announced the release of its LifeCubby Family App Version 3.0. "LifeCubby has completely transformed the way child care providers document and communicate," stated Sue Testaguzza, founder and CEO of LifeCubby. What began in 2011 as a project for her own child care teachers to convert their paper portfolios to digital, has since become a worldwide phenomenon.
"I really like the in-app messaging with the teachers," said to Cheri Bourne, a parent with two children at a child care center that's been using LifeCubby for nearly 5 years. LifeCubby gives parents a live, real-time connection to their child care providers. "The teachers are usually pretty prompt about responding, and it helps my husband and me stay connected to our children while we are at work," she said.
LifeCubby Family App 3.0 includes an updated User Interface (UI) and improved account management tools. Parents can scroll through photos taken by the teachers and read about what their children are learning. Teachers "Tag" the photos with developmental domains and notes about early childhood development.
"Love it, love it," Bourne said of the photos from the teachers. "Some have become screen savers!"
"We launched in August 2011 with LifeCubby apps for teachers and parents plus web software for administration," Testaguzza said. Subsequently, the first generation apps have been replaced with newer versions while the web software continues to mature with improved functionalities.
"Assessments are also a key component of LifeCubby," according to LifeCubby researcher and customer service executive, Nancy Stecklein. "It's a natural for student assessments to reside in the parent-engagement software," she said. Later this summer, LifeCubby will release an updated version of its Vine Assessments, which continue to grow in popularity and state approvals.
"We are good listeners to our clients," Testaguzza said. "The parents and teachers that use LifeCubby have been instrumental in directing our development." Currently, LifeCubby's platform gives teachers the ability to post their photos, videos, newsletters, lesson plans, menus, daily sheets, assessments, and required reports, plus it manages their outbound emails.
It seems to be working. LifeCubby is growing at an impressive rate, enrolling over 26,000 new families and teachers just since January. LifeCubby currently serves nearly 140,000 families and teachers across the United States, Canada and Australia.
Learn more about LifeCubby by visiting http://www.lifecubby.com