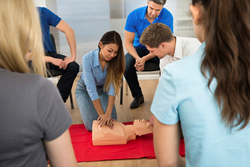 LINCOLN, R.I. (PRWEB) June 30, 2016
June is National Safety Month, so Amica Insurance is sharing 10 reminders to promote wellness inside and outside the home.
According to the National Safety Council (NSC), more than 136,000 people died from unintentional-injury-related deaths in 2014. That's why the NSC recommends the following safety tips:
Be ready for the unexpected

Always watch children around water.
Keep emergency phone numbers nearby.
Become certified in first aid and CPR.
Safeguard your health
Keep medicine away from children.
Be aware of medication interactions.
Watch for danger
Secure furniture to avoid tip-overs.
•Fall-proof the bathrooms of older adults.

Pay attention to where you are walking.
Make good choices behind the wheel
Practice driving with teens, even after they get a license.
Focus on the road instead of distractions.
About Amica Insurance
Amica Mutual Insurance Co., the nation's oldest mutual insurer of automobiles, was founded in 1907. The company, based in Lincoln, Rhode Island, is a national writer of auto, home, marine and umbrella insurance. Life coverage is available through Amica Life Insurance Company, a wholly owned subsidiary. Amica employs more than 3,400 people in 44 offices across the country. For more information, visit Amica.com.
Media inquiries can be sent to MediaCenter(at)amica(dot)com.
Twitter: Amica
Facebook: Amica Mutual Insurance Co.