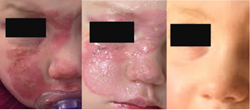 Burns can vary in degrees and the higher the intensity of the burn, the worse the scarring.
Jupiter, FL (PRWEB) July 02, 2016
As the weather heats up, kids and adults are more active. While we want to encourage kids to put down the video games and go play, injuries are a common consequence. Adults aren't exempt from summertime injuries either. Here's a list of common summertime injuries that often lead to emergency room visits, surgeries, stitches, and burns resulting in bad scars. "Scar guru," Dr. Michael Connor, weighs in on the list and offers clarity on treating and healing scars from injury or even surgery. Dr. Connor applied his years of medical expertise in plastic and reconstructive surgery and partnered with his pediatrician wife to invent Scarology®, a hospital grade, 3-step, at-home scar healing treatment.
1. Sports related injuries: Baseball, basketball, bicycling, skateboarding, and even running through sprinklers on slippery grass can result in falls, breaks or deep cuts. "Sports injuries often make for great scar stories but as kids age, scars in exposed areas of the body are met with self consciousness. When a woman refuses to wear shorts because of a knee scar, that's when you see its impact," explains Dr. Connor.
2. Barbecue burns: When mom and dad are working on the grill, they may experience a bad burn that is severe enough to require medical attention. These burns oftentimes leave a significant scar. "Burns can vary in degrees and the higher the intensity of the burn, the worse the scarring. Barbeque burns in adults typically involve the hands and arms," shares Dr. Connor.
3. Gardening and yard work: This is a pretty common cause for injury in adults. Sharp gardening tools and lawnmower accidents pose a significant risk. A slippery garden hose can lead to a fall and deep cut to the knee, which may lead to scarring. "When possible, wear long sleeves and pants when working in wooded areas to prevent cuts and scrapes," suggests Dr. Connor.
4. DIY home repair: Hammers, saws, drills and other tools can result in injury within seconds. All it takes is a lack of attention or focus and the next thing you know, your hand is gaping open and in need of stitches.
5. Dog bites: Dogs are outside more during the summer, thus, there are more dog bites reported during the summer months. These bites can be quite serious and oftentimes require stitches to the face, arms or legs.
"I've seen all of these types of injuries and many more. There are a lot of "freak accidents" that happen during summer. Most of the people who come to me have scars from years ago and vividly recall the story of how that injury happened," offers Dr. Mike Connor. "Most people want their scars healed, especially when they are highly visible. After years of not being able to recommend a scar removal treatment that worked, my wife and I decided to create one."
Scarology®, which launched in 2014, has helped thousands of people significantly reduce and even fade the appearance of their scars in as quickly as three days depending on the age and severity of the scar and other factors.
Scarology's unique three-step treatment process can be used on both adults and children to help fade a wide variety of scars including acne scars, facial scars, burn scars, keloids, wound scars, stretch marks and C-section scars.
For more information on Scarology® visit: http://www.Scarology.com