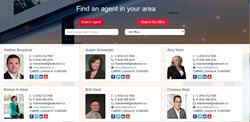 "Our ApexIDX- Broker Edition™ plugin will increase user engagement on company websites by providing an intuitive and entertaining homes search and lead capture system."
Thousand Oaks, CA (PRWEB) June 30, 2016
RealtyTech Inc., a Thousand Oaks, CA Software and Marketing Corporation, announce the launch of ApexIDX- Broker Edition™ Wordpress plugin, for real estate company websites in Southern California and the Miami Florida area.
ApexIDX- Broker Edition™ is a turnkey home search for WordPress designed from the ground up to be easy to install and integrate on any real estate company website, both Word Press and non-Wordpress websites. Regardless if the Company has or wants any kind of website, the ApexIDX- Broker Edition™ will integrate 100% with fully Google search engine Indexable listings. This means the Company site's listings will be placed live on Google. This is not true with standard IDX search systems.
"We believe this is the most advanced and feature rich WordPress IDX plugin currently available on the market," said Richard Uzelac, CEO of RealtyTech. "Our ApexIDX- Broker Edition™ plugin will increase user engagement on company websites by providing an intuitive and entertaining homes search and lead capture system."
ApexIDX- Broker Edition™ is a full-featured turnkey solution for real estate companies. All listings are SEO friendly and fully indexable for Google placement. The IDX administration system is simple with a beautiful WYSIWYG interface, which simply means it's simple for clients to modify to their exact needs. Very little customization will be needed due to the high number of widgets incorporated with ApexIDX- Broker Edition™.
Key New Features:

Advanced Agent Gallery with Agent Pages with their Live and Sold listings auto-populated.
Google Indexable Listings for ALL Property Listings in the MLS
New Featured Home Display Options
Testimonials animated widget
"We are extremely proud of how easy it is to install ApexIDX- Broker Edition™ and integrate our advanced widgets and pages on WordPress websites and any other type of website as well," said Lance Grove, RealtyTech Senior Account Executive. "Our ApexIDX- Broker Edition™ solution offers a solid usable setup right out of the box and is still easily customized to fit each company's specific needs."
About RealtyTech Inc.
RealtyTech Inc. is a Thousand Oaks, CA-based Company that gives real estate professionals the tools necessary to stand out and succeed in today's online marketplace combined with solution minded, live California-based customer service. We have over 15 years of online real estate marketing expertise and have spent over 10 years of that experience offering Agent and Office websites, IDX Home Searches and Internet Marketing. For more information, please call (877) 832-4428 or visit http://www.RealtyTech.com