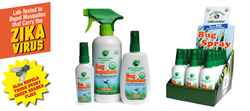 "Shortly after the Zika virus was first detected in Brazil in 2015, we sent one thousand bottles of our repellent to a friend in Brazil who has shared it with doctors and dermatologists," she said, "and they experienced great results."
YARDLEY, PA (PRWEB) July 05, 2016
As a mother-to-be faced with a mosquito invasion of her flooded New Jersey home, Jayme Bella knew she had to do something. But in order to avoid using the concerning DEET-laden products she found on store shelves, she and her husband researched and developed a mixture of essential oils to ward off the dangerous insects. The mixture was extremely effective, so she shared her solution with family and friends. Demand grew and in 2010, she began marketing her USDA-certified organic repellent, as Bella and her parents formed Greenerways LLC. Since then, her product has been picked up by Whole Foods Market, QVC, Zulily, Costco in the U.S., Japan and Taiwan, the Giant grocery stores, and more than 50 other distribution companies. "During the 2015 Taiwan typhoon" Bella, now CEO of Greenerways, recounts, "Costco and other retailers sold Greenerways Organic Bug Repellent in response to the deadly mosquito-borne diseases dengue fever and chikungunya virus.
Now that the World Health Organization has announced the spread of the Zika virus to be an international public health emergency, sparking the public's growing concern for its impact in the United States, demand for her product has sped up even faster. Earlier this year, Bella had the product lab-tested in the U.S. to confirm that it was effective against the mosquitos that can carry the Zika Virus, and the results were compelling: 100% efficacy against probes (bites) by the Aedes aegypti mosquitos in 15-minute and 90-minutes tests, and 98% efficacy against probes at the 3 ½ hour tests.
Retailers noticed. For example, the product went into 300 Costco stores by Memorial Day, and most of them have already reordered. Bella also appears on QVC throughout the summer. Greenerways has been on a growth trajectory that doubled the products' sales in 2015 and they're on track to triple in 2016. "Greenerways has a presence in every state, and to better serve our customers, we've added a new distribution center on the East Coast," Bella said.
Bella has also mounted a mosquito attack in Brazil. "Shortly after the Zika virus was first detected in Brazil in 2015, we sent one thousand bottles of our repellent to a friend in Brazil who has shared it with doctors and dermatologists," she said, "and they experienced great results." Bella followed up by partnering with a large distribution company in Brazil, where the repellent is currently being distributed.
The DEET-free product is USDA certified organic from seed to shelf, and is also effective in repelling flying insects like gnats, flies, including the green headed flies, and even fleas and ticks. "It has been shown that mosquitoes can develop resistance to DEET, but not so to essential oils. They cannot adapt to essential oils," said Bella.
With a goal of creating affordable organic products, Bella has priced the proprietary blend of essential oils well within the range of its chemical-based competitors. Suggested retail price for a four-ounce bottle is $8.99. The company also offers an organic all-surface cleaner, an organic lawn and garden spray, an insect repellent candle and organic ant and roach spray. For more information on Greenerways Organic product distributors or to purchase online, visit http://www.greenerways.com or contact Jayme Bella at jayme(at)greenerdays(dot)net or 800-777-1603.