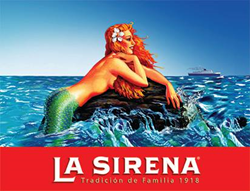 It is a new brand to the American market and we are eager to showcase their value to American consumers.
Thousand Oaks CA (PRWEB) June 30, 2016
GoMarketing Inc, a leading internet advertising and online marketing company, based in Thousand Oaks California, has been chosen by La Sirena Foods (an Otis McAllister Company) to design and develop a new website for the brand. This work will complement GoMarketing's current Internet Marketing and Social Marketing plans for La Sirena Foods.
President of GoMarketing Inc., Richard Uzelac is excited to be working with La Sirena Foods in an expanded way.
"It was a pleasure meeting with Monica Diaz-Moreno of La Sirena Foods/Otis McAllister. We like the way they do business, they provide a great product that is number one in Central America," said Richard Uzelac. "Being picked to take their current website design and enhance it with their new look and build a new mobile responsive site for them is very exciting. We are already focusing on several verticals of business strengths that La Sirena has and we want to help expose their product via social media and other brand marketing to the US. It is a new brand to the American market and we are eager to showcase their value to American consumers. What really impresses us is La Sirena Foods' long history of sustainable dolphin safe fishing practices and their dedication to providing products that support a healthy family lifestyle at an affordable price."
About La Sirena Foods
Since 1918, consumers from around the world have looked to our La Sirena for the very best seafood products. La Sirena's storied history begins back in the days of California's famous sardine boom. Knowing a good thing when they saw it, La Sirena selected and packed the finest sardines in Monterey and shipped them to Central America. One taste of La Sirena's sardines in our famous Pica Pica sauce and it was love at first bite. Today, La Sirena is one of the strongest brands in Latin America and number one in Central America. The Mermaid continues to lure fans of quality seafood from around the world.
For more information about La Sirena Foods and their quality seafood products, please visit http://www.lasirenafoods.com
About GoMarketing
Over the past ten years, GoMarketing has constantly endeavored to understand the internet marketing landscapes as it changes on a daily basis. They offer software design, online advertising, website optimization, social media marketing, e-commerce solutions, website design and development, along with a host of other services to provide their Clients with the best solutions available to meet their business goals. Clients have included: MetLife Inc., Dover Corporation, FOX Sports, ESPN, Tom James Co, RealtyTech and many more.
For more information about online marketing and advertising benefits please contact
GoMarketing at: 1-866-736-1232. Or visit http://www.GoMarketing.com