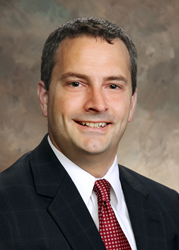 Norristown, PA (PRWEB) July 05, 2016
High Swartz LLP, a full-service law firm with offices in Norristown and Doylestown, Pennsylvania, is proud to announce that employment law partner, James Shrimp, recently presented a CLE at Exude, Inc. on June 27, 2016.
Entitled "FLSA Overtime Regulations – What You Need to Know" the session was designed to help employers learn how to handle the changes coming over the next six months. Topics included:

Best practices for classifying or reclassifying employee job descriptions.
Effective communication strategies so employees don't feel demoted.
A plan to help manage and implement these changes.
How to avoid mistakes that could have costly repercussions.
Shrimp counsels and represents businesses in employment and commercial disputes, including employment discrimination, wage and hour, and restrictive covenants. Having worked on both the business and employee sides throughout his legal career, Shrimp has the unique ability to advise clients with a 360-degree view of the cost / benefit analysis of the case and the ability to provide an accurate and keen risk assessment. Shrimp also counsels and represents business in franchise law and trademark issues.
High Swartz LLP is a general practice law firm serving clients in the Delaware Valley and throughout Pennsylvania from offices in Norristown and Doylestown. Established in 1914, High Swartz serves the needs of businesses, municipalities, government entities, nonprofits and individuals. With offices in Bucks County and Montgomery County, the full-service law firm provides comprehensive counsel and legal support to individuals and business entities of all sizes across a broad spectrum of industries throughout Pennsylvania and New Jersey. For more information, go to http://www.highswartz.com.