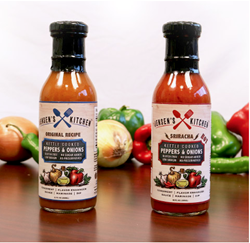 Jensen's is a no sugar added condiment that could happily replace ketchup forever. Julie Rosenburg of the Daily News
Syosset, NY (PRWEB) July 02, 2016
Jensen's Kitchen LLC, a creator of fine condiments and marinades, announces the launch of Kettle Cooked Peppers and Onions, which comes in both Original and Sriracha flavors has been named by The Daily News as one of the ten best items at the Summer Fancy Food Show
Julie Rosenberg of the Daily News "I've been going to the annual Fancy Food and Confections show for so long that I can tell the culinary gimmicks" about Jensen's Kitchen Kettle Cooked Onion Pepper Sauce, Julie wrote "Jensen's is a no sugar added condiment that could happily replace ketchup forever."
The Fancy Food Show is one of the largest food shows in the country and began in 1954. At this summer's show there were 2,670 exhibitors from all over the world.
Jensen's Kitchen called both a condiment or "sauce" captures the great flavor of sautéed peppers and onions for easy use on sausage, burgers, sandwiches, chicken, beef, pork and more.
The sauce is simple, healthy, and delicious – with all natural, gluten-free ingredients, no sugar added, and no preservatives. Just in time for summer, the sauces are the perfect addition to any outdoor BBQ.
Jensen's hallmark of SIMPLE HEALTHY AND DELICIOUS is producing condiments, and marinades that are flavorful yet healthy enough to be used by, children, vegetarians and diabetics requiring no preservatives, low salt and no added sugar.
Customers are overjoyed because now there is a product on the market that replaces all the non-healthy products as well as give great taste and flavor.
"Jensen's Kitchen Kettle Cooked Peppers and Onions Sauce in both Original and Sriracha can be ordered at http://www.jensenskitchen.com.