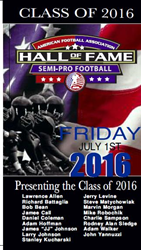 Binghamton, New York (PRWEB) July 05, 2016
For the fifth consecutive year, the Pro Football Hall of Fame in Canton, Ohio was the site for the American Football Association's 36th Annual Semi-Pro/Minor League Hall of Fame Induction Dinner on Friday, July 1st. Seventeen individuals representing semi-pro/minor league football teams across the country were enshrined as 'legends' of their level.
This year's enshrinement festivities began on Thursday evening, June 30, 2016, at the Pro Football Hall of Fame in Canton, OH with the annual AFA/HOF Alumni Huddle cocktail party. The "Huddle" provided attending HOF Alumni an opportunity to meet and greet the new group of semi-pro/minor league football legends before they were inducted.
On Friday evening, the Class of 2016 was honored by AFA Alumni, family, and friends as they received their commemorative Semi-Pro/Minor League Hall of Fame recognition plaques. Craig Ochoa (Class of '03) served as MC, while former teammates and/or family members presented the new inductees to the dinner crowd. Each inductee provided very sincere and touching testimonies about their backgrounds and careers. The induction dinner event webcast was viewed by over 1000 friends, family, and fans worldwide. This webcast is available for viewing at http://www.livestream.com/swp/afa.
The American Football Association is proud to present the names of those who were enshrined into the AFA Semi-Pro/Minor League Football Hall of Fame as the "Class of 2016" (names in parentheses indicate sponsors of the new inductees):
Coaches Category:

Jerry Levine – Watertown, NY (George Ashcraft)
Player Category:

Lawrence "Big Bird" Allen - Surprise, AZ (Steve Bucky Denton)
Richard Battaglia - Raleigh, NC (Andy Tranchita, Simeon Hendrickson, Chick Cichowski, Dale Berman, Ron Hansen, Bobby Hitz, Jack Perry)
Bob Bean - Davie, FL (Rick Sager)
Jamee Call - Antwerp, NY (George Ashcraft)
Daniel Coleman - Chickamauga, GA (Skip Poole)
Adam Hoffman – Frederick, MD (Charles Johnson, Chad Fauson, Chazz Brown, Joe Brumfield)
James "JJ" Johnson - Dinwiddie, VA (Hal Lockhart)
Larry Johnson - Chicago, IL (Tom Robinson)
Stanley Kucharski - Archbald, PA (Charles Rader)
Steve Matychowiak - Olympia, WA (Mark Meadows)
Marvin Morgan - Newark, NJ (Norm Mann)
Mike Robochik - Latham, NY (Tom Manny, Dave Fleck)
Charlie Sampson – Cleveland, OH (Don Kempf, Dennis McElligott, Paul Takach)
Rodney Alan Sledge - Richmond, VA (Bob Yurachek)
Adam Walker - Milwaukee, WI (Phil Micech)
John Yannuzzi - Binghamton, NY (Alvin Lollie)
The enshrinement of this year's class of 17 new hall of famers will see the association's 35-year total number of inductees expand from 725 members to 742 members. Since the inaugural enshrinement in 1981 (including the Class of 2016) the AFA has recognized 443 players; 107 coaches; 87 executives; 31 officials; 25 pioneers; 20 media/historians; 13 trainer/equipment men; 6 associated with youth football; 5 involved with international semi-pro; 4 from the women's level; and even 1 'super fan'.
Links to key event archives:
- AFA Hall of Fame Online Auction Fund Raiser
- 2016 AFA Sponsor Listing
- 2016 AFA Logo Wear
- Official Photos 2016 Hall of Fame Inductions
- 2016 Hall of Fame Induction Webcast: Copies of this webcast can be obtained by contacting Steve Weed @ 315-782-8383 Office or 315-783-2171 Cell
Text AFAHOF to 71777 to support our crowd funding campaign or click http://igfn.us/vf/AFAHOF
About the American Football Association:
The American Football Association is a national 501(c)(3) non-profit, tax exempt corporation in its 36th year of operation, and is dedicated to the advancement of adult (semi-pro) football from coast-to-coast. Our slogan is Semi Pro & Proud®. We are not affiliated with any other national semi-pro/minor league organization. The AFA, Hall of Fame, American Football News™ and AFA logo design are registered trademarks of the American Football Association. All other AFA-related trademarks are trademarks of the American Football Association.