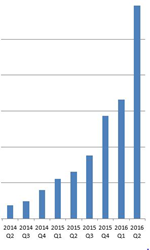 People are used to having a technology solution [but] social engineering bypasses all technologies, including firewalls. said KnowBe4's Chief Hacking Officer Kevin Mitnick.
Tampa Bay, FL (PRWEB) July 05, 2016
KnowBe4, America's most popular integrated security awareness training and phishing platform announced its explosive year over year growth of 454% for Q2 2016, with a record number of 655 new corporate accounts in June alone, rising to nearly 5,000 enterprise accounts combined with a very robust 86% customer retention rate. Fueling this growth is the accelerating demand for its integrated training and phishing platform. KnowBe4 has seen consecutive growth for a record 12 straight quarters, and more recently a stellar 1600% growth rate from Q2 2014 to Q2 2016.
Skyrocketing rates of ransomware infections and the proliferation of scams such as the Business Email Compromise (BEC) -- also known as CEO fraud -- have brought the problem of social engineering using the internet into the limelight. In June 2016, the FBI issued an updated alert reporting a 1,300% rise in losses since January 2015 to the tune of 3.1 billion dollars.
"KnowBe4's training and simulated phishing platform has been well received by IT managers as it allows them to better manage the ongoing problem of social engineering," said KnowBe4 CEO Stu Sjouwerman. "Customers tell us continually that it has fostered a much improved employee security culture. They feel safer knowing they can better control both their personal and company security," added Sjouwerman.
According to a study done in June by KnowBe4, ransomware infections have nearly doubled over the past two years. The study also showed IT Managers answering that security awareness training was considered to be the most effective tool against ransomware at 88 percent, followed by backup at 83 percent. Confidence in email and spam filtering effectiveness was only 72 percent.
"Ninety-three percent of all phishing email contains ransomware, up from 56 percent in December 2015," noted Sjouwerman. "Between ransomware and CEO fraud, cyber criminals have built themselves a very successful business model that is pumping hundreds of millions of dollars into their pockets. These internet bad guys are located primarily in Eastern Europe and are out of the reach of U.S. law enforcement agencies, leaving companies to rely on their own initiative and security policies for protection."
"Many organizations have found that old-school annual training using a 15 minute PowerPoint presentation with coffee and donuts to keep employees awake doesn't work. Cybercriminals continue to employ more sophisticated methods to bypass filters and other technology solutions. IT managers and CISOs are increasingly choosing KnowBe4 because we get results," said Sjouwerman.
"People are used to having a technology solution [but] social engineering bypasses all technologies, including firewalls. Technology is critical, but we have to look at people and processes. Social engineering is a form of hacking that uses influence tactics," said KnowBe4's Chief Hacking Officer Kevin Mitnick.
According to security firm AlienVault, 82 percent of IT security pros worry their high-ranking executives are still vulnerable to phishing scams. Despite such concerns, only 45 percent provide security training to all their employees including the executive board while 20 percent do no training at all.
According to Sjouwerman, "Users need help to recognize the evolving techniques used by cybercriminals. KnowBe4 recommends frequent simulated phishing attacks to keep employees aware and on their toes."
For more information, visit http://www.KnowBe4.com
About KnowBe4
KnowBe4 is the world's most popular integrated Security Awareness Training and Simulated Phishing platform. Realizing that the human element of security was being seriously neglected, KnowBe4 was created by two of the best known names in cybersecurity, Kevin Mitnick (the World's Most Famous Hacker), and Inc. 500 alum serial security entrepreneur Stu Sjouwerman, to help organizations manage the problem of social engineering tactics through new school security awareness training. The company maintains a top spot in the Cybersecurity 500, the definitive list of the world's hottest and most innovative companies in cybersecurity. More than 4,000 organizations use KnowBe4's platform to keep employees on their toes with security top of mind. KnowBe4 is used across all industries, including highly regulated fields such as finance, healthcare, energy, government and insurance.