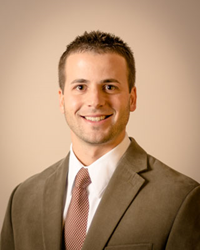 Passion and excitement are what drive new ideas, and new ideas are what keep us at the forefront of technology.
Dublin, Ohio (PRWEB) July 06, 2016
Safeware, a leading provider of product protection and warranty solutions, is excited to announce that its Vice President of Technology, Doug Belden, has been named to Dealerscope's 40 Under 40 list for 2016. With Dealerscope's focus upon products and strategies for success in the fast-moving consumer technology market, Belden's expertise in technology made him a natural candidate for the recognition.
Having been in the information technology industry for over thirteen years and with Safeware for nine years, Belden's innovative spirit and leadership skills have helped transform Safeware into one of the most recognized providers of product protection solutions for consumer products in the nation. From the development of propriety information management systems to customizable customer portals, Belden's accomplishments consistently exceed the expectations of those with whom he works.
Safeware's Chief Executive Officer, Bryan Schutjer says, "Doug's appointment to Dealerscope's 40 Under 40 List is a tribute to his professional success and continued desire to learn. As a result of Doug's can-do attitude and exceptional work ethic, Safeware proudly leads the industry in automation and technology integration to provide a best-in-class customer experience."
Having recently transitioned to Vice President of Technology, Belden is responsible for developing and implementing Safeware's short and long-term information technology strategy in a manner that supports the company's operational priorities and quality service to its clients.
The consumer electronics market is growing rapidly, while constantly unveiling new products and services. When asked how he is able to effectively lead in such an ever-evolving industry, Belden says, "When people take natural passion and apply it to their job, amazing things happen. I love seeing this occur regularly, not only at Safeware, but also with other up-and-coming technology professionals that I have networked with over the years. Passion and excitement are what drive new ideas, and new ideas are what keep us at the forefront of technology."
With company awards such as Safeware Leader of the Year in 2015, Safeware Innovator Award in 2014, and Safeware Commitment to Excellence Award in 2012 and 2013, Belden's accomplishments are well documented and valued by his fellow Safeware associates.
About Safeware
Founded in 1982, Safeware is a fully licensed Insurance Agency as well as a Third Party Administrator for Extended Warranty and Service Plan Solutions. This unique combination gives partners the flexibility to customize a program that meets their distinct needs, and allows their customers to own their products with confidence.
To learn more about Safeware, please visit the company online or by phone at 1-800-800-1492.