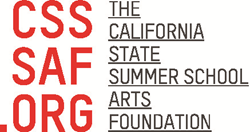 Los Angeles, CA (PRWEB) July 05, 2016
The California State Summer School for the Arts (CSSSA) and the CSSSA Foundation are pleased to announce a generous grant from the Academy of Motion Picture Arts and Sciences in support of CSSSA's Artist-in-Residence Program. This summer's guest artist line-up includes professionals in the film industry, including: David Fenster, Dorie Barton, Javier Fuentes Leon and Danny Plotnick.
The CSSSA Guest Artists Program brings esteemed artists to the school each summer to educate, inspire and challenge our talented young artists in a wide variety of disciplines. This grant supports guest artists with expertise in film. Invited Artists will have a platform to directly impact our film students and may also work with those studying animation, creative writing, dance, music, theater, and visual arts who may also have an interest in the subject. The Guest Artist Program provides CSSSA students with the opportunity to learn industry secrets from seasoned professionals who practice and contribute to the creative economy.
David Fenster has directed three feature films and numerous shorts. His films have screened at festivals and museums around the world including: Sundance, The Museum of Modern Art, True/False, the Viennale, and the Los Angeles Film Festival. His last feature, Pincus, was nominated for an Independent Spirit Award. As a cinematographer he has shot several films for other directors, including Monica and David for Ali Codina which aired on HBO and was nominated for an Emmy. He has taught film and video courses at UC San Diego and CalArts. He received an BA from the University of Florida and an MFA from CalArts.
Dorie Barton is a writer-director who makes her feature film debut with Girl Flu, a coming-of-age drama starring Katee Sackhoff and Jeremy Sisto. She spent many years as a story consultant in the film industry, and as actor, she has been appeared opposite Ewan MacGregor in Down with Love, alongside Neil Patrick Harris and Tony Shalhoub in Stark Raving Mad, and in Bobcat Goldthwait's God Bless America. She graduated from the CalArts with a theater degree, and remains a proud member of the Evidence Room Theater Company in Los Angeles.
Javier Fuentes-León is a Peruvian writer and director based in Los Angeles, best known for his directorial long-feature debut Undertow (Spanish title Contracorriente) and his meta-mystery The Vanished Elephant (El Elefante Desaparecido).
Danny Plotnick dove into the underground film world in the 1980s. Fueled by his love of alternative culture, his films were infused with the DIY spirit of the times. His films have shown at the MOMA in NYC, on the Independent Film Channel, and MTV. As an educator, he was the Director of Education at The Film Arts Foundation for seven years, taught at SF University High School, San Francisco State University and The California College of the Arts.
ABOUT CSSSA
Each summer, the top student in each discipline, as selected by CSSSA program faculty, are honored with an Emerging Young Artist Scholarship in the amount of $40,000 from the Herb Alpert Foundation, for collegiate study or pre-professional training programs. An additional 14 scholarships at the $2,500 level are also awarded on an annual basis.
CSSSA is a cutting-edge, creative and immersive arts education program for talented and motivated high school students. It is a four-week, intensive, residential program located on the secure and closed California Institute of the Arts (CalArts) campus. It offers seven disciplines including: animation, creative writing, dance, film, music, theater and visual arts. Thousands of students apply to CSSSA each year, but only 500 are selected through a rigorous review process by professional panels. One of the primary purposes of the CSSSA experience is to empower young artists to find their own voice of creative expression.
CSSSA is now in its 30th year. CSSSA alumni include such Hollywood names as Zac Efron and James Franco, Pixar animators Mark Walsh and Sanjay Patel, Broadway star Teal Wicks, TV stars Katherine McPhee and Kirsten Vangsness, author Margaret Dilloway among many other successful artists and creative leaders.
Special support for the CSSSA Guest Artist program comes from the Academy of Motion Picture Arts and Sciences, the Rob Jaffe Memorial Endowment and the Frederick R. Weisman Art Foundation. Additional program support provided by the Herb Alpert Foundation and the William and Flora Hewlett Foundation.
ABOUT THE ACADEMY OF MOTION PICTURE ARTS AND SCIENCES
The Academy of Motion Picture Arts and Sciences is the world's preeminent movie-related organization, with a membership of more than 7,000 of the most accomplished men and women working in cinema. Although best known for its annual Oscar telecast, the Academy is involved in a wide array of education, outreach, preservation and research activities.
For more information about CSSSA, visit http://www.csssa.org. For further information on our generous donors, contact: Heidi Kershaw, Executive Director, CSSSA Foundation, heidi(at)csssaf(dot)org