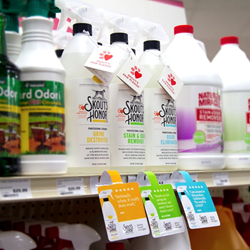 "With new retail doors opening every day showcasing our products on their shelves, we're incredibly thankful for the success of our distributor partnerships to date..." said Macon Brock, president at Skout's Honor
Irvine, CA (PRWEB) July 06, 2016
Skout's Honor, the line of Better, Faster and Stronger solutions to everyday pet stain and odor problems, today announced the addition of three new U.S. distribution partners: Bark to Basics, Natural Animal Nutrition, Inc. (NAN) and Fauna Foods Corp.
The new partners join Skout's current line up of distributors, which include: Central Garden and Pet, Veterinary Service, Inc. (VSI), United Pacific Pet (UPP), and Aloha Natural Pet Supply.
"With new retail doors opening every day showcasing our products on their shelves, we're incredibly thankful for the success of our distributor relationships to date – and this announcement signifies the next exciting step in our growth path," said Macon Brock, president at Skout's Honor. "The addition of Bark to Basics, NAN and Fauna to our roster of partners offers considerable opportunities for us to reach even more pet owners across the country."
Bark to Basics is an award-winning company founded in 2002 and is dedicated to improving the health and longevity of dogs and cats by providing high-quality products to independent retailers across the Midwest region. NAN was founded in 1981 as a manufacturer and distributor of therapeutic nutritional products and services independent pet retailers, kennels, veterinary hospitals and health food stores throughout the Mid-Atlantic. Lastly, Fauna Foods serves the independent pet channel in the Northeast, and has a proven track record of providing outstanding service for over more than 38 years.
The Skout's Honor product line currently includes 35 oz. spray bottles of: Stain & Odor Remover, Odor Eliminator, Urine Destroyer, Litter Box Deodorizer, Patio Cleaner & Deodorizer, Cat Urine & Odor Destroyer ($14.99 each), as well as gallon-sized versions of its Stain & Odor Remover and Urine Destroyer ($44.99 each).
Skout's Honor is Better, Faster and Stronger than other leading products in their category, due to a proprietary odor eliminating technology and BioKore™ - a revolutionary green cleaning technology – that breaks down and lifts away stains on contact. Both formulas are biodegradable, bio-renewable and non-toxic – offering the most powerful cleaning solutions on the market, while still being safe for use around pets, family and home. For specific retail locations, please visit the store locator.
About Skout's Honor
Skout's Honor is a company based in Irvine, Calif. that offers BETTER, FASTER and STRONGER cleaning solutions to everyday pet stain and odor problems, including: Stain & Odor Remover, Odor Eliminator, Urine Destroyer, Litter Box Deodorizer, Cat Urine & Odor Destroyer and Patio Cleaner & Deodorizer. Founded by a team of animal lovers and proud pet owners, the company created its "Skout's Paw Pledge," and donates a day's worth of food for a shelter animal in need with every product sold. For more information on the products and for specific retailers, please visit SkoutsHonor.com