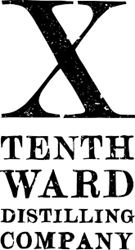 Frederick, MD (PRWEB) July 06, 2016
Tenth Ward Distilling Company opened its doors Saturday July 2nd at 12 pm. Following July 2nd, Tenth Ward will be open Wednesdays through Sundays from 12pm-6pm for tours and tastings. Tenth Ward's tasting room will serve as a retail space as well where customers can purchase spirits distilled and bottled in house, merchandise and Tenth Ward's signature whiskey aging kits.
Tenth Ward will launch their opening with three white (unaged) whiskeys. Two of those will be a part of their bootlegger series as they are named after famous Frederick prohibition lawbreakers- Lindsay Stunkle White Rye Whiskey and Claude Countee Corn Whiskey. The third is a White Caraway Rye inspired by the well-known caraway flavor that is associated with rye bread. Customers can look out for an aged version of the White Caraway and the release of their Apple Jack (an aged apple brandy) in the fall. For more information on Tenth Ward's upcoming spirits follow this link to their website- http://www.tenthwarddistilling.com/booze/
See below for a few other updates and information on Tenth Ward:

All press, media and other invited guests are welcome to join the ribbon cutting ceremony scheduled July 20th at 4 pm. The ceremony will be followed by an open house and complimentary tours and tastings for attendees.
During regular open hours tours are $5 per person, will be on a rolling basis and do not need to be scheduled in advance.
Tenth Ward has a small indoor capacity of 26 so please notify ahead of time by emailing info(at)tenthwarddistilling(dot)com if you have a party larger than 10.
Tenth Ward can be found on social media at
https://twitter.com/tenthwardco
https://www.instagram.com/tenthwardco/ #tenthwardco #wardoffordinary
https://www.facebook.com/tenthwardco/
Tenth Ward is a part of the Frederick Area Distillery Association (#frederickdistilleries) and the Maryland Distillers Guild (#marylandspirits). More information about distilleries in Frederick or in the state of Maryland can be found at http://marylandspirits.org/.