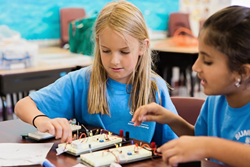 In the summer, we open our doors beyond Stratford students and offer enrollment for children throughout the area
Pleasanton, Calif. (PRWEB) July 06, 2016
Summer is STEAMy at Stratford School, Pleasanton campus. There's still time to turn up the heat and enroll children in fun, enriching, experiential learning programs where they'll make new friends while staying sharp and ready to start the school year with confidence. STEAM-based (science, technology, engineering, art, math) activities happening at Stratford's Pleasanton location offer a flexible and fun way to spend the summer.
Stratford School Pleasanton campus is located at 4576 Willow Road in Pleasanton, just off I-680 and Stoneridge Drive. Registration is open. Programs are ongoing and students may join at any time. "In the summer, we open our doors beyond Stratford students and offer enrollment for children throughout the area," says Licia Morrow, Tutoring and Enrichment Program Director of the Stratford School Pleasanton campus. "Studies show that summer learning loss in reading and computational math skills is more likely to happen over summer. Our Summer@Stratford programs provide a fun and creative way to keep children active and engaged throughout the summer, reducing the chances of falling behind academically during an extended academic break."
Children are welcome to sign up regardless of enrollment at Stratford. Summer@Stratford offers two options for summer enrichment: Camp Socrates and STEAM camp; an innovative a la carte opportunity to learn and grow based on a child's specific interests and curiosities.
Stratford's original, enriched Camp Socrates summer day camps (four and seven week programs) offers campers in preschool through fifth grade the opportunity to learn, explore and engage in camp-style activities and enriched academics throughout the summer. The day begins with team building through collaborative camp play. Morning sessions engage the mind with creative and interactive reading, math, and writing activities that promote critical thinking and strengthen fundamental computational skills, followed by invigorating afternoon STEAM sessions and outdoor adventures.
Stratford's innovative STEAM program at the Pleasanton campus gives 1st through 5th grade campers an opportunity to explore, as they discover new areas of interest and develop lifelong skills. This program offers flexible enrollment without having to commit to a full summer course. Campers will enjoy a wide-variety of STEAM and enrichment activities tailored for their summer adventure. One week a student could be designing and building a roller coaster. The next week they could be commanding a space ship, writing code, or perfecting their programming skills.
Parents are invited to discover an adventure in learning at: http://www.stratfordschools.com/summer-camp.
More STEAMy summer activities to enjoy at Stratford:
Songs and Story Time with a twist!
Friday, July 15, 2016
10:00 a.m.
FREE
Help Goldilocks find her way out of the woods with our friends Dash and Dot during this creative story time adventure filled with songs and engaging activities by Ms. Amina.
TECH DAY Hackathon in collaboration with Knodemy,
Saturday, July 16, 2016
1:00 p.m. to 5:00 p.m.
Children in grades 4 through 5 who are eager to learn computer science, are invited to collaborate, innovate and bring their ideas to life. The Hackathon is structured to teach students to become builders and creators, and not just consumers of technology.
Information and registration at kdmy.co/techdaystratford
About Stratford School
Established in 1999, Stratford School is a leading independent private school founded on the belief that education is a significant influence in the life of a child. Stratford offers an accelerated curriculum from preschool through eighth grade with an emphasis in the areas of STEAM (Science, Technology, Engineering, Arts, and Mathematics) that incorporates music, physical education, foreign language, and social skills development. Stratford's goal is to prepare and mentor students for admission to competitive high schools and colleges. All students are provided the necessary tools to excel, and are encouraged to participate actively in leadership, community service, and extracurricular activities. Visit http://www.stratfordschools.com for more information.