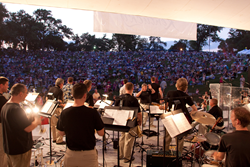 "It's great to see families attending with 3 generations..."— James Cassidy, KSO Music Director
Covington, KY (PRWEB) July 06, 2016
The KSO's Boogie Band (studio orchestra) kicks off the orchestra's 22nd summer of free concerts in Devou Park with 50 years of popular music of all generations and genres. The KSO "Boogie Band" was formed in 1999 to allow audiences to re-live their younger days by singing along or dancing to their music. For decades, pop artists have gone into the recording studio together with session musicians (strings, horns, and rhythm) to create the songs we bought on vinyl 45's & LPs, 8-track and cassette tapes, CDs and now mp3s and streaming. Since many of the instruments employed are also used in the symphony, the KSO put together its own local "Wrecking Crew" (the storied LA studio musicians that played for many superstar recording sessions). Arranger Terry LaBolt was enlisted to pen authentic adaptations (covers) complete with the lead and back up vocals.
With 22 summers in Devou Park, the KSO has extended a 77-year tradition of multi-generational Summer gatherings at the iconic concert bowl. KSO music director James Cassidy observed, "It's great to see families attending with 3 generations, and knowing that these concerts remain a tradition that is being passed along." Musically, there will be something for everyone including the alphabet generations: Baby Boomers will recall Nancy Sinatra, The Beatles and Peter Paul & Mary, while the sound of Gen-X included Barry Manilow to Sister Sledge. Gen-Y can claim Madonna and the B-52s, while Gen-Z boasts the likes of Marky Mark and Gretchen Wilson. The Millennials are responsible for the popularity of Taylor Swift and Bruno Mars.
The Symphony's various subsidiary groups (Newport Ragtime Band, Flood Wall Jazz Quintet, Covington Devou-Doo Daddies, and Boogie Band) have allowed the KSO to offer the region first-rate relevant, nostalgic and stylistically accurate live performances of America's musical heritage (from 1898 to today). Audience participation is always expected.
The KSO's free summer programs continue with smooth jazz with orchestra under the stars on August 6 dubbed Catching the Sun featuring nostalgic instrumental tunes by Chuck Mangione, Chick Corea, Eumir Deodato and Jay Beckenstein (Spyro Gyra). "Straussing Out" — A New Year's style shindig with the family von Strauss is on tap for Labor Day weekend (Sept. 3) with singing, dancing, a musical saw, and much more.
The Orchestra thanks new sponsor DBL Law who join Toyota Motor Engineering and Manufacturing North America, Macy's, St. Elizabeth Physicians, U.S. Bank and Fischer Homes in supporting the 2016 Summer Series. Their generosity covers nearly 50% of the orchestra's Summer Series production costs.
All concerts start at 7:30 p.m. and are held rain or shine. Admission is free, though donations are encouraged. Parking is free throughout the park. T.A.N.K. shuttles run from Covington Catholic to the band shell from 6:00 -7:30 p.m. Cost: $1 each way. Picnics are welcome. Food trucks and concessions available. Bring blankets or lawn chairs. No tickets or advanced reservations required. Additional information can be found by visiting kyso.org or calling (859) 431-6216.
About the KSO:
The Kentucky Symphony Orchestra takes the "phony" out of symphony through live thematic concerts that culturally enrich, educate and entertain the residents of Northern Kentucky and Greater Cincinnati. The KSO performs throughout Northern Kentucky performing three series of concerts annually.