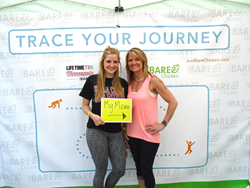 Saint Cloud, Minn. (PRWEB) July 07, 2016
Just BARE® Chicken, a nationally distributed brand of all natural chicken, is sponsoring six Minnesota-based healthy lifestyle events taking place through October 2016. Just BARE has partnered with Life TimeSM—The Healthy Way of Life Company, to sponsor five events through its Life Time Tri and Gildan Esprit de She brands, and Twin Cities In Motion, a nonprofit that promotes healthy lifestyles through running events, to sponsor the Medtronic Twin Cities Marathon. Just BARE will bring its message of traceability to the athletes involved in these six events to highlight its "Trace Your Chicken" function on JustBareChicken.com, while also inspiring healthy lifestyles.
Since its introduction in 2009, the Just BARE brand has led the chicken industry in transparency with imprinted traceability codes on each package of its line of Natural No Antibiotics–Ever, Vegetable- and Grain-Fed chicken. These codes allow consumers to see and learn more about the actual family farmers who raised the chicken in their packages. Recent Just BARE research* shows 31 percent of consumers say they will not buy chicken unless they know where it is from, and 61 percent would like to know where it came from if they could.
Runners and triathletes at the healthy lifestyle events will be introduced to the traceability of Just BARE chicken by way of its "Trace Your Journey" booth. At the pre-race expo, athletes are greeted by the Just BARE team and asked to share what inspired them to train for the event. Then, temporary, airbrush tattoos are specially designed for them to reflect that personal motivation. After the race, athletes who show their tattoo or finisher's medal at the booth are eligible to receive a special gift to celebrate their personal journey. To celebrate these athletes and inspire healthy lifestyles, Just BARE will share photos from "Trace Your Journey" booth on the Just BARE Facebook page.
"The Just BARE brand of chicken is dedicated to raising goodness in the communities we sell our chicken. We're committed to fueling passions and contributing to a healthier future," said Rory Bidinger, brand manager for Just BARE. "That's why Just BARE is sponsoring events at which athletes show their commitment to healthy lifestyles. With the "Trace Your Journey" campaign, we hope to celebrate these meaningful personal journeys from when they were motivated to start training to when they felt the exhilaration of the finish—and inspire others."
In 2016, Just BARE is the presenting sponsor of the Life Time Tri Minneapolis, at which more than 2,000 elite, amateur and beginner triathletes will participate in the swim, bike and run courses on Saturday, July 9. Already this year, Just BARE was a corporate sponsor of the Gildan Esprit de She race in Lakeville on May 22 and will be again in Maple Grove on August 4. Additional sponsorships in 2016 include the Life Time Tri Winona event, Trinona presented by Fastenal, held on June 12 and the upcoming Life Time Tri Maple Grove on August 27. Just BARE also is a Mile Marker sponsor of the Medtronic Twin Cities Marathon, dubbed the "Most Beautiful Urban Marathon in America®" that takes place in Minneapolis and St. Paul on October 9.
How To Trace Just BARE Natural Chicken To Its Farm Source
"We believe everyone should have the ability to follow the journey of his or her food, from farm to fork," Bidinger concludes. The traceability feature of the Just BARE Natural/No Antibiotics–Ever chicken is easy to use. Look for a three- to four-digit code near the freshness date stamp on a package of Just BARE Natural, which appears right after the words "FAMILY FARM." Enter it online or the "Trace Your Chicken" page of the Just BARE website to see where it came from.
*Just BARE Goodness for Gardens Research, conducted online July through September 2015, including 206 consumers aged 18+.
About Just BARE® | Raising Goodness®
Just BARE® is distributed nationally by St. Cloud, Minn.-based GNP Company, a provider of premium natural chicken products to retail, deli and foodservice customers. The brand lives its mission of good food for more people by providing Natural/No Antibiotics-Ever and Organic varieties of chicken with no antibiotics, no added hormones, no animal by-products (vegetable and grain fed), and no artificial additives. Just BARE Natural/No Antibiotics–Ever retail, deli and foodservice products are third-party humane certified and traceable to the family farms where the chicken was raised. Organic Just BARE is USDA-certified organic and verified by Midwest Organic Services Association (MOSA). To find simply delicious recipes, nutrition information and general cooking and safe handling tips, visit JustBareChicken.com. For more information about its "mother hen" company, which has more than 1,700 team members and 360 family farm partners in Minnesota and Wisconsin, visit GNPCompany.com.
About Life TimeSM—The Healthy Way of Life Company:
Life Time is a privately held, comprehensive health and lifestyle company that offers a personalized and scientific approach to long-term health and wellness. Through its portfolio of distinctive resort-like destinations, athletic events and corporate health services, the Healthy Way of Life Company helps members achieve their goals everyday with the support of a team of dedicated professionals and an array of proprietary health assessments. As of July 2016 the company operates 121 centers in 26 states and 35 major markets under the LIFE TIME FITNESS® and LIFE TIME ATHLETIC® brands in the United States and Canada. Additional information is available at http://www.lifetimefitness.com.
About Twin Cities In Motion (TCM):
Twin Cities In Motion organizes the region's premier running events, including the Medtronic Twin Cities Marathon, a Top 10 U.S. Marathon. With a mission of promoting healthy lifestyles through running events and community outreach, TCM contributes a portion of every race dollar to local youth and professional athletes and helps raise more than $950,000 annually with its charity partners. For more information, visit us at tcmevents.org, or find us on Facebook and on Twitter @tcmarathon.
# # #