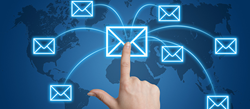 We make email simple
Garden City, NY (PRWEB) July 07, 2016
Through providing the necessary insight for a successful email campaign, Softmailinc.com plans to show users that their brand is one that can be trusted.
One of softmailinc.com's primary goals is to show users the importance of email marketing and how pivotal it can be to one's overall strategy. Despite its significance email campaigns can be very difficult to execute, with positive or negative results relying on a just a few key factors. One of the most important aspects of an email campaign are click-through rates, which displays how many people actually opened the email that was sent to them. Softmailinc.com stresses the fact that an increase in click-through rates plays an intricate part in a successful campaign.
Softmailinc.com's advice mainly involves increasing its users' click-through rates through the use of specific tactics and email marketing software. One of these tips is keeping an email's look consistent with its brand and website. That way if a brand's name is already well known then the chances of someone opening its emails are higher. Another tip is utilizing strong CTAs (calls to actions) to let viewers know exactly what it is you want them to do and help guide them along the process. The final tip involves using a streamlined, focused format to help accurately convey your message.
"It is important that people keep these tips in mind to ensure that they utilize email marketing to its fullest potential" said by softmailinc.com founder J Ronald Nazaire. He also stated "email campaigns are just another cog in the marketing machine, which can only work if all the pieces are moving in tandem. In the right hands, emails can be just as beneficial as television and print ads."
For users looking for more additional insight on how to help increase their click-through rates and campaign overall, softmailinc.com also host a blog that can be found on their website that provides tips, tricks, and tactics to making the most out of their email marketing strategy. If anyone would like to stay undated on new blog posts and articles, they can follow softmailinc.com on Facebook, Twitter, LinkedIn, and Google+.
We provide our online web based email marketing software to reach your target audience and build customer relationships. Email marketing is for every small business and should be part of the marketing mix. Softmail has a large database of opt in emails for you to select from, and to market to. We offer our easy to use Email Marketing Software as part of our small business marketing packages.