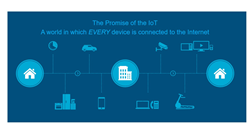 "We were inspired by the experience many of us have on some level in connected homes and decided to bring the best parts of it to the office," said Gal Oppenheimer, Senior Product Manager at Built.io.
Gatineau, Quebec (PRWEB) July 07, 2016
Macadamian, an Internet of Things solutions provider, and Built.io, a technology provider with solutions that enable organizations to quickly create, integrate and scale applications across mobile, web and IoT, announce solution to change how businesses run meetings. By connecting consumer devices such as the Philips Hue connected light bulb with industry-leading cloud integration platform Built.io Flow, the joint solution provides an 'enlightened' experience that re-imagines one of the most frustrating, routine activities shared by enterprise employees worldwide: scheduling space in meeting rooms.
The connected meeting room is inspired by a common pain point. In many modern organizations, conference rooms are frequently connected to iPads and company calendars, but employees often fail to check in or check out--rooms are borrowed without signing in and meetings run over their scheduled time.
To solve these problems, Macadamian leveraged Built.io Flow to integrate the Hue lights and motion sensors into an intelligent meeting room management system, This provides users with the visual insights they need to make the best use of a meeting room, while freeing up other spaces that are booked, yet unoccupied. Macadamian's expertise in user experience (UX) design and IoT solution development made quick work of a complex problem.
"We love that Built.io Flow makes it simple for anyone to integrate all of the tools they're already using," said Timon LeDain, Director of IoT at Macadamian. "For us, partnering with Built.io was an instant win, because Built.io Flow provides the 'connective tissue' for the innovative digital solutions we create. From a time-to-market and ease-of-use standpoint Built.io Flow significantly accelerates our ability to deliver results for our customers."
Both teams will be present at the Microsoft Partner Conference in Toronto, Canada July 10-14, 2016. They will be demonstrating the Connected Conference Room, which features:

A busy indicator light that is installed outside of a the room to indicate at a glance if the room is free or not based on colors. Red is busy, green is free.
A usage monitor that uses a motion sensor or ambient noise detector inside the room to determine if the room is currently occupied. If the room is booked, but unoccupied, the system can automatically release the room to make it available to other people. The system can further attempt to contact the owner of the meeting before unbooking.
An ambient indicator light in the conference room (a light) that would slowly changes color when the end of the booked meeting time is approaching. This indicator can provides visual feedback depending on whether whether there is another meeting something else scheduled in that room, or if it is free. and the current meeting could be extended.
"We were inspired by the experience many of us have on some level in connected homes and decided to bring the best parts of it to the office," said Gal Oppenheimer, Senior Product Manager at Built.io. "When you connect a light to a calendar as well as a physical space, suddenly you can quickly and intuitively remove common headaches associated with meeting logistics. From a technology perspective, the solution is made possible because Built.io Flow can connect anything with an API in minutes."
To view the 'Connected Conference Room' demo at Microsoft's Worldwide Partners Conference or to learn about which Microsoft technologies can be connected using Built.io Flow, please email Timon LeDain at tledain@macadamian.com or Gal Oppenheimer at gal@built.io.
###
About Macadamian
Macadamian is a full service user centered software design and development firm. From product ideation to market ready – and everything in between, we provide a complete range of usability, design and engineering services. From large enterprise, telecom, and healthcare; our solutions are founded in research-informed design first while leveraging the cloud, big data, and Internet of Things to deliver context-aware and adaptive experiences. Visit http://www.macadamian.com or contact us via phone at +1 877 779 6336.
About Built.io Flow
Built.io Flow is Built.io's award winning Integration Platform-as-a-Service (iPaaS) that enables anyone to create business value through integration. By connecting sensors, devices, systems and applications across mobile, web and IoT, Built.io Flow allows organizations to easily create sophisticated workflows that automate complex business processes and deliver critical data to the right place at the right time.
Press Inquiries
Vani Edwardson
Macadamian
vedwardson(at)macadamian(dot)com
+1 819 772-0300
Katelyn Davis
SHIFT Communications
builtiopr(at)shiftcomm(dot)com
+1 415 591 8465