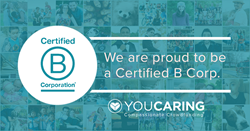 San Francisco, California (PRWEB) July 07, 2016
YouCaring (http://www.youcaring.com), a San Francisco-based company providing free online crowdfunding for personal and charitable causes, announces today that it has become a B Corporation®. YouCaring has been approved by B Lab®, a nonprofit organization serving those who use business as a force for good.
YouCaring meets the highest standards of overall social and environmental accountability, transparency, and commitment in becoming a B Corp™. As mandated by B Lab®, YouCaring has amended its governing documents to require shareholders to consider the impact of company decisions on its employees, suppliers, community, customers, and the environment.
"We are honored to join the B Corp™ community," said Dan Saper, President of YouCaring. "We have long operated as a company focused on our social impact. We envision a world in which no one has to endure hardship alone, and YouCaring is dedicated to making crowdfunding free, safe, and easy for anyone who needs it." YouCaring joins the ranks of Patagonia, Etsy, Kickstarter, Warby Parker, Ben & Jerry's and over 1600 other Certified B Corporations® to redefine success in business.
ABOUT YOUCARING
Launched in 2011, YouCaring is a free crowdfunding platform that empowers people to help others through hardships and enjoy happier, healthier lives. The YouCaring community has raised more than $400 million in donations from five million supporters – all without charging fees. Like its donors, YouCaring relies on donations from generous supporters to finance its operations. YouCaring believes kindness is powerful and is dedicated to helping people overcome, heal, and thrive.
Media Contact: Tawni Alailima
YouCaring Address: 49 Geary Street, Suite 530, San Francisco, CA 94108
Telephone: (925) 250-6751
Email: press(at)youcaring(dot)com
Website: https://www.youcaring.com/
YouCaring Blog Post on B Corp: https://www.youcaring.com/blog/2016/youcaring-became-b-corp
More Information: https://www.bcorporation.net/community/youcaringcom
###