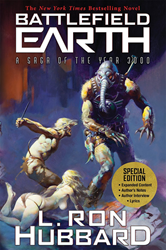 it's just a good story. And a good story is always good -Jim Marrs
Hollywood, CA (PRWEB) July 07, 2016
Thirty-four years after its initial publication, L. Ron Hubbard's timeless science fiction classic Battlefield Earth has once again burst onto the sales charts, soaring to the top of the bestseller lists.
Battlefield Earth captured the #1 book slot across the board at Barnes & Noble and Books-a-Million, as well as ranking #1 in science fiction & fantasy at Amazon.com this past week.
The release of the 21st century edition of Battlefield Earth kicked off and began with an alien spaceship crashing on Hollywood Blvd announcing the release of the 21st century edition of Battlefield Earth. Enthusiasm quickly built over the new edition, with features now containing a fresh new cover designed painted by famed illustrator Frank Frazetta, along with an additional 50 pages of new content.
International bestselling author Jim Marrs (Alien Agenda, Crossfire, and Rule by Secrecy) was recently interviewed by CBS 46 in Atlanta why Battlefield Earth was such an important read, Marrs responded, "It's a rollicking good story. It gives you a whole broad spectrum of various issues about are we prepared for an alien contact or are we prepared for an alien invasion." Marrs went on to state, "Steven Hawking recently said maybe we shouldn't be sending space probes out there with maps of where we are because we might be drawing someone in that we might not want to have contact with. We need to start thinking of ourselves as citizens of the Galaxy and I think that L. Ron Hubbard's book, Battlefield Earth, kind of typifies that and gives us a good starting point."
When asked how the story was still relevant 30 years later, Marrs simply responded, "Well for one thing, it's just a good story. And a good story is always good."
With 19 New York Times bestsellers and more than 350 million copies of his works in circulation, L. Ron Hubbard is among the most acclaimed and widely read authors of our time. In celebration of his fiftieth anniversary as an author, he again returned to the forefront of popular literature with his monumental epics Battlefield Earth and the ten-volume Mission Earth series. Together, these titles dominated international bestseller lists for 153 weeks, and still remain among the all-time classic works of modern speculative fiction.
Get more information on Battlefield Earth and L. Ron Hubbard at http://www.BattleFieldEarth.com and http://www.GalaxyPress.com and follow @BE_The_Book on Twitter.