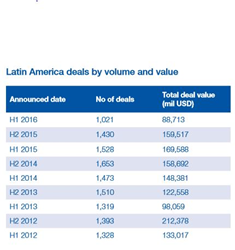 It appears that Latin America has not escaped the general decline in deal activity which has been witnessed worldwide throughout the opening six months of 2016.
Mexico City, Mexico (PRWEB) July 08, 2016
The value of mergers and acquisitions (M&A) targeting companies based in South and Central America, including tax havens, declined for the second consecutive six month period in 2016, according to information collected by the leading M&A database Zephyr. There were 1,021 deals worth a combined USD 88,713 million in H1 2016, down from 1,430 deals worth USD 159,517 million in H2 2015.
The largest M&A transaction in the region recorded by Zephyr in H1 2016 involved China Overseas Land and Investment acquiring British Virgin Islands-incorporated Tuxiana and China-based CITIC Real Estate in a deal valued at USD 4,777 million. Once again many of the top 20 deals over the six months featured targets based in tax havens. However, there were a number of exceptions, including Ardagh Group's USD 3,420 million purchase of Ball Corporation's two can manufacturing plants in Brazil, among other international assets.
Eight of the period's top 20 deals featured a Cayman Islands-based target. Together these deals accounted for 18 per cent of total Latin American value over the six months. Brazil was once again the best-performing non-tax haven in terms of both volume and value, having been targeted in 132 transactions worth a combined USD 12,441 million.
The Zephyr database shows that in keeping with the overall trend for Latin American dealmaking in H1 2016, private equity and venture capital (PE and VC) activity fell in H1 2016 to 101 deals worth a combined USD 5,073 million, compared to 126 deals worth USD 26,837 million in the second half of 2015. The result was not much better in a year-on-year comparison; although value fell at a slower rate from USD 10,573 million in H1 2015, volume decreased more steeply from 185 deals over the same timeframe.
Lisa Wright, Zephyr director, commented, "It appears that Latin America has not escaped the general decline in deal activity which has been witnessed worldwide throughout the opening six months of 2016. However, given that 2015 was the third-best performing year on record in terms of Latin American M&A value, it would not be surprising if 2016 fails to scale the same dizzy heights. It is interesting to note that deals targeting tax havens in the LATAM region continue to dominate the top 20, despite the Panama Papers leak in early April."
For further information, please contact:
Zephyr Editorial
zephyreditorial(at)bvdinfo(dot)com
• Get the full report
Bureau van Dijk Mexico City
+ 52 (55) 3683-8080
mexico(at)bvdinfo(dot)com
Notes to Editors:
The date range is 01/01/2016 – 30/06/2016 inclusive
Activity is based on the activity of the target company
Deal status is announced, completed, pending or unconditional
The sector breakdown uses targets' activities as defined to be 'Major Sectors' by Zephyr
The Latin America and Caribbean region covers target companies in Anguilla (AI), Antigua and Barbuda (AG), Argentina (AR), Aruba (AW), Bahamas (BS), Barbados (BB), Belize (BZ), Bermuda (BM), Bolivia (BO), Brazil (BR), British Virgin Islands (VG), Cayman Islands (KY), Chile (CL), Colombia (CO), Costa Rica (CR), Cuba (CU), Curacao (CW), Dominica (DM), Dominican Republic (DO), Ecuador (EC), El Salvador (SV), Grenada (GD), Guatemala (GT), Guyana (GY), Haiti (HT), Honduras (HN), Jamaica (JM), Mexico (MX), Nicaragua (NI), Panama (PA), Paraguay (PY), Peru (PE), Saint Kitts and Nevis (KN), Saint Lucia (LC), Saint Vincent and the Grenadines (VC), Sint Maarten (SX), Suriname (SR), Trinidad and Tobago (TT), Uruguay (UY), Venezuela (VE)
Bureau van Dijk (BvD) is the leading provider of private company, corporate ownership and deal information. BvD's product range combines data from regulatory and other sources, including 140 information partners, with flexible software to allow users to manipulate data for a range of research needs and applications. Its Orbis database provides information on almost 200 million companies across the globe.
In addition, BvD addresses specific business challenges through its range of Catalysts including transfer pricing, credit, procurement, KYC, client on-boarding, M&A research and valuations, while BvD custom delivers bespoke solutions. http://www.bvdinfo.com/corporatefinance
About Zephyr
Zephyr is an information solution containing M&A, IPO and venture capital deals and rumours with links to detailed financial company information. Winner of numerous recent M&A industry awards, including Best M&A Data Publisher 2015 at the Acquisition International M&A Awards, Zephyr is published by Bureau van Dijk (BvD). The deals on Zephyr are linked to the company financials and peer reports on BvD's product range. Zephyr contains information on over 1.4 million deals.
Drawing data from Orbis and Zephyr, M&A Research Catalyst delivers clear and easy-to-interpret reports specifically created for M&A research. They combine information on companies, comparable deals and valuations alongside an interface to help you identify targets, or acquirers, and value companies. M&A Research Catalyst provides you with M&A-tailored information in an easy-to-interpret report, including: financials; earnings estimates; news and deals; comparable companies and deals; DCF valuation; and valuation multiples. http://www.bvdinfo.com/ma-catalyst